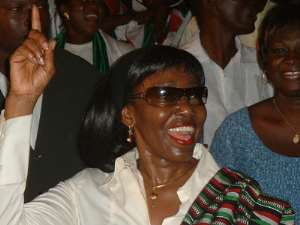 Charges against the former First Lady, Nana Konadu Agyeman Rawlings, and five others alleged to have willfully caused financial loss to the state is to be reduced.
Ms. Gertrude Aikins, Chief State Attorney and Acting Director for Public Prosecution, disclosed that the charges of 30 counts would be reduced to nine.
Nana Konadu and five others are standing trial for allegedly causing financial loss to the state in respect of the divestiture of the GIHOC Cannery at Nsawam.
The other five accused persons are Emmanuel Amuzu Agbodo, a former Executive Secretary of the Divestiture Implementation Committee (DIC), Thomas Benson Owusu, a former Accountant of the DIC, Kwame Peprah, a former Minister of Finance and former Chairman of the DIC, Sherry Ayittey, Managing Director of Carridem Development Company Limited, property of 31 December Women's Movement and Carridem as an entity.
They are variously charged with 30 counts of conspiracy, causing financial loss to public property, conspiracy to obtain public property by false statement and obtaining public property by false statement.
They have all denied the offences and have been admitted to self-recognisance bail.
Earlier, Georgina Okaitey, General Manager, Larry Adjetey, Director Secretary and George Mould, a Director all of Carridem, were discharged at the instance of prosecution.
The accused persons were alleged to have caused loss to public property running into billions of cedis, following the acquisition of state-owned GIHOC Cannery at Nsawam by Carridem Development Company Limited.
This, the prosecution had stated that the accused persons failed to complete interest payment, which accrued on the purchase price of the cannery.
The case has been adjourned to June 1.
Source: GNA