Two Expelled Officials Victims Of 'Bonus' Agitation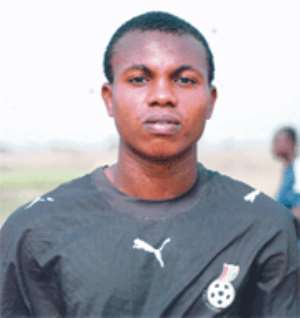 The expulsion of two management members of the national U-17 team has stirred some, interesting revelations to confirm the rot that has characterised the management of the team.
Mr Richard Asare, welfare officer and Laud Sewornu, the masseur of the team, were early this week relieved of their posts in the fallout of the African U-17 Championship held in Togo last March.
Moses Otibo — Dropped from team
The Executive Committee of the Ghana Football Association recommended the expulsion of the two officials following reports of their misconduct during the championship.
The Committee recalled that Sewornu displayed gross disrespect to authority during the presentation of medals after the final of the tournament and which was captured on the television. Asare's crime bordered on extortion of money from players and entertainment of his wife in the team's hotel.
But sources within the camp have revealed that the decision goes beyond what the FA has spelt out in their letters of dismissal and said the two were victims of the power game that has been raging within the fold of the team in respect of the sharing of bonuses and other allowances.
An unimpeachable source told the Graphic Sports that long before the team's participation in the Togo tournament, some top officials in management had been agitating for the expulsion of elements who had often resisted the way bonuses and other allowances had been disbursed.
One account revealed how bonuses that had been announced were slashed by the officials when they finally decided to pay them.
"When we ask for explaination we are often told that the moneys were used for ways and means and other things for the benefit of the team"; he revealed.
According to the sources, when the Black Starlets won against Cote d'Ivoire at the Sunyani Sports Stadium, instead of a stipulated winning bonus of $1000 each for players and officials, some officials had theirs slashed by $500 in what was said to have sparked disagreements.
Already the Graphic Sports has uncovered official involvement in the selection of players into the team.
As many as 10 players are said to have been axed in a move that has made casualties of key ones like Moses Otibo, Nathaniel Asamoah, Ben Acheampong and Perro Gwalla who played in the African Championship.
In their places are players who have been brought to camp by officials of the management team.
Confirming this to the Graphic Sports yesterday, Mr Kudjoe Fianoo, a member of the Starlets Management Committee, said he was asked to bring two players but he declined the offer.
Interestingly, allegations that some members of the team were interfering with selection forced the FA to set up a committee for investigations into the matter.
Story by Andy Quao