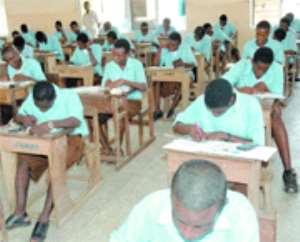 The West Africa Senior Secondary Certificate Examination (WASSCE) reached its peak this week with two core subjects on the timetable for every candidate to write.
At exactly 9:00am yesterday, the bell went for candidates to rack their brains and solve various mathematical questions for two-and-a-half hours as is required of the paper.
Normally, Core Mathematics is one subject that is taken seriously by all candidates as that determines whether or not they will gain admission to the university.
The atmosphere in some of the senior secondary schools was understandably charged when the Junior Graphic team visited some of the schools in Accra.
As early as 7:00am many candidates were seen holding graph books, mathematical sets, rulers and pencils doing their last revision.
At the Accra High School, at 8:00am, candidates had lined up in front of the assembly hall to be checked in to write the paper. The atmosphere at the Presbyterian Secondary School, Osu, and St Thomas Aquinas Secondary School was no different. The compound was very quiet, with candidates busily using their compass and calculators. There were 318 and 441candidates respectively writing the examination in the two schools.
The next core paper, Oral English, will take place on Friday and is mandatory for all candidates. Other subjects for this week are Economics Two, Animal Husbandry Two and Chemistry Practical.
In all, 569 senior secondary schools, with a candidature of 134,083, are taking part in the WASSCE. The candidates are made up of 74,628 males and 59,455 females who are the second batch of students to write the examination in Ghana.
The one-and-a-half-month-long examination will end on June 7 with French, Wood Work, Drawing and Design as the last papers.
Story by Hadiza Nuhhu-Billa