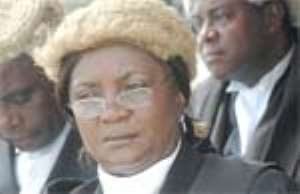 The Daily Guide says very credible sources have hinted it that President J.A. Kufuor has settled on 60-year-old Mrs. Justice Georgina Woode as the next Chief Justice.
"Daily Guide can also say without fear that a letter was dispatched to the Council of State, stating the President's decision soon after the burial of the late Chief Justice George Kingsley Acquah last Friday.
A former Deputy Superintendent and public prosecutor in the Ghana Police Service, Justice Woode may perhaps make history as the youngest Chief Justice in the history of modern Ghana's judiciary aside being the first female to climb that ladder.
"The Chief Justice is appointed by the President of Ghana acting in consultation with the Council of State and with the approval of the Parliament of Ghana," the 1992 Constitution states.
Article 128(1) of the constitution as well stipulates that the Supreme Court is made up of the Chief Justice and not less than nine other Justices.
It would be recalled that soon after the death of Justice Acquah, President Kufuor appointed Justice Francois Y. Kpegah as acting CJ. Since then, there has been vigorous speculation as to who would be the substantive CJ.
The Council of State is expected to approve of her nomination as well as the parliamentary budget committee.
Source: Daily Guide