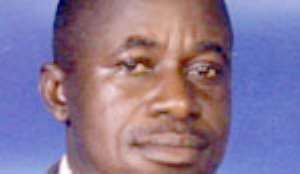 The Deputy Attorney-General and Minister of Justice, Hon. Kwame Osei-Prempeh, was yesterday fired and pinned to the back on radio when he attempted to justify the 1966 Military Coup that overthrew the first Republican Constitution of Ghana, by referring to the leaders of the military junta as heroes.
The Nsuta-Kwamang Beposo MP, who made the allusion at Fiaxor in the Volta Region last week at a ceremony to mark 40 years of the death of General Emmanuel Kwasi Kotoka, and strongly defended his statements on Peace 104.3 FM yesterday, incurred the displeasure of contributors, many of who made several unprintable remarks about the ruling New Patriotic Party (NPP) government.
His arguments were, however, virtually torn to shreds when Kweku Baako jnr, Egbert Faibille and Kwesi Pratt, managing editors of Crusading Guide, Observer and Insight newspapers respectively, waded in with what seemed to be more convincing to listeners of the Kokroko morning Show Programme.
Dozens of Ghanaians called for his removal from office, and many others grumbled that his utterances made total nonsense of the final report of the National Reconciliation Commission (NRC), which condemned all military takeovers in Ghana since independence.
Hon. Osei-Prempeh made incoherent submissions when in one vein, he called the 1966 coup maker a patriot who deserved to be honoured, and in another breath, vehemently condemned the subsequent coups of January 1972, July 1978, June 1979 and December 1981, some of which toppled democratic governments too.
Also confusing was the aversion that the Osagyefo was a respected Statesman and Pan-Africanist, but still a dictator whose overthrow was deserved.
"Even though coups are generally bad, some of them are commendable, depending on what the leader is doing with the power. The world supports certain coups as happened in Mauritania.
I respect Nkrumah but his democratic credentials are nothing to write home about," he told show host Kwame Sefa-Kayi yesterday.
Sadly for him, the minister/MP failed to name the countries worldwide whose citizenry jubilated when Dr. Kwame Nkrumah was overthrown in a coup that recent Central Intelligence Agency (CIA) classified documents indicated was sponsored for $13million.
The embattled politician contended that at the time of the coup, there was no other option available to sending Nkrumah packing after he had declared Ghana a one-party state and slapped the Preventive Detention Act (PDA) on the people.
He stressed however that all other coups after 1966 were illegal.
One yawning gap in his argument that came to light was the query by callers to the effect that going by his claims, the deputy A-G was discreetly admitting that his boss, President John Agyekum Kufuor also partook in an illegality when he briefly served in the Provisional National Defence Council (PNDC) government as a deputy Local Government Minister.
Obviously sensing the apparent mess he was creating, Hon. Osei-Prempeh explained that all he said at Fiaxor were his personal comments and did not represent the views of his government.
However, not even that stance sounded convincing to many, as some pointed it out to him that before he took over the microphone at Fiaxor, he was introduced to the gathering as the deputy A-G and Minister of Justice of the ruling government.
He however caved in when he eventually conceded that the proscription of the Convention People's Party (CPP) by Kotoka's National Liberation Council was a mistake.
This was after he was virtually deflated by Kweku Baako jnr., who referred to people like him as 'political dinosaurs and ostriches', and observed that Ghana would be better off without their views.
According to Baako, the 1966 coup was a treasonable act contrary to the Criminal Code of 1960, Armed Forces Act of 1962, and the 1961 Constitution, and contended that it did not take military coups to remove one-party governments in Cote D'Ivoire, Malawi, Tanzania and Zambia.
He recalled also that attempts to overthrow Nkrumah, which started as far back as 1958, went beyond the issue of one-party state.
Kwesi Pratt, contributing, said it was a disgrace for the deputy-AG to attempt to justify any coup, as on the contrary, popular mobilisation of civil society successfully removed governments in Yugoslovia and other places.
For his part, Egbert Faibille said the minister's comments smacked of double standards, more so when the NPP government, which set up the NRC, was yet to press for the exhumation of their bodies to accord befitting burials to those who attempted to right the wrongs of Kotoka and others.
It would be recalled that at a programme organised by the chiefs and people of Fiaxor to mark 40 years of the killing of Kotoka, Hon. Osei-Prempeh and Kofi Dzamesi, Volta Regional Minister, were reported as heaping tons of praises on Kotoka for plotting and executing the first coup in the country, describing him as one of the finest soldiers Ghana ever had.
However, President Kufuor, at the Golden Jubilee celebrations recently, expressed his admiration for Nkrumah, whose vision, he noted, had brought the country and Africa this far.
The programme was attended by Torgbui Sri III, Regent of the Awomefia Stool of the Anlo State.