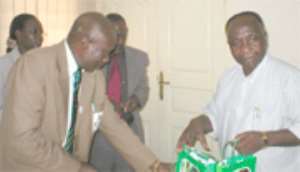 The Abuja 2014 Commonwealth Games bid Committee has thrown an open invitation to Ghana to support her bid for the games.
A four-man delegation of the Abuja Bid Committee made the overture at a meeting with the Ghana Olympic Committee (GOC) at the offices of the GOC in Accra yesterday.
Among some of the key points made by the Abuja team in their presentation are good sporting facilities, key among which is their 60,000-seater capacity Athletics Stadium, hosting experience, loyalty to the Commonwealth, media and telecommunications friendliness, a good economy and the passion of the Nigerian people for sports.
Briefing the meeting, Mr Sani Badamasi, head of the delegation, said his country had a good track record of hosting international sporting events and Ghana's support as a fellow West African nation would be crucial in their prospects of hosting the 2014 games.
According to him Nigeria would use the platform of the Games to popularise some of the mandatory disciplines on the Commonwealth Games programme, like netball and lawn bowling.
In a short speech, Mr Frank Appiah, First Vice President of the GOC, said "we are very impressed with your presentation and we assure you of our support when the need arises."
As part of their efforts to canvass support for their bid, the Abuja 2014 Bid Committee will visit Sierra Leone and The Gambia. They will also visit the remaining 68 countries of the Commonwealth.
Story by Nathaniel Attoh