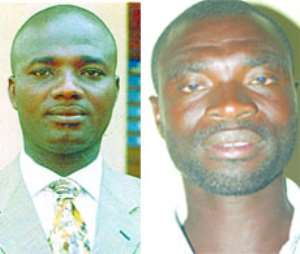 THE NATURAL gift of eloquence, fluency in the local Twi language plus the capacity to get phone calls through to various local FM stations on daily basis to possibly sway public opinion on political issues in favour of their respective political parties through effective propaganda spins have earned them the title, 'Serial Callers.'
The most popular among these people, the ruling New Patriotic Party's (NPP) Frank Appiah, popularly called Appiah Stadium and the opposition National Democratic Congress' Mr. Osei Yaw Nketiah also known in the serial calling business as Dr. Asem Fofro, have taken their respective parties to the cleaners, for not showing appreciation for the work they do for the parties.
Appiah Stadium, who uses that name by virtue of his work as a security man at the Kumasi Sports Stadium and Dr. Asem Fofro, who goes around with traditional drugs in his neat and portable suitcase last week walked into The Chronicle offices in Kumasi and Accra respectively, to pour out their frustrations to journalists on the paper.
Whilst the highlight of Appiah Stadium's frustrations was a narration of a clash with Deputy Energy Minister, Mr. K. T. Hammond, Asem Fofro's has to do with what he said were physical attacks on his person that the party leadership has been silent on.
At the head office of the paper in Accra, the NDC's Asem Fofro said he had finally decided to quit serial calling because he had suffered consistent physical attacks from NPP supporters and continuing with the job would mean putting his life at risk.
He told the paper that he decided to go on with his defence of the NDC on radio stations despite initial harassments at the hands of NPP supporters but later came to the realization that he was doing that at the peril of his life because the leadership of the NDC had amply demonstrated that they did not care about what happens to him in the course of defending the party.
"I have always defended the NDC on radio stations and because of this NPP supporters always want to beat me. Anytime I am attacked nobody from the NDC leadership would even call to say anything to me so I could also feel that the party appreciates what I am doing. So I still support the party but as for defending it on radio stations, I have stopped and that is why you have not been hearing my voice of late," the NDC man said.
Asem Fofro who hails from Jumapo said since the People's Assembly in Cape Coast, during which he said he had paid medical bills running into millions of cedis during his wife's delivery at the Korle-Bu Teaching Hospital, though he had registered for the National Health Insurance Scheme (NHIS) and his recent outburst at a similar forum in Sunyani during which he challenged President Kufuor to invoke curses upon himself to prove that he had not embezzled any state funds, he had seen no peace at the hands of NPP supporters.
"Everywhere I go they point fingers at me and I was recently beaten up by a mob at Adehyeman in Kumasi. Another group of people recently chased me at Abossey Okai and I had to run to somebody's shop to seek refuge," he narrated.
Asked why he goes through those ordeals he explained, "My crime has always been that I am the one who has been speaking on radio against the current government," stressing, " But upon all these difficulties I go through, no NDC leader would even call to say anything for me to feel that I have their support."
Asem Fofro went on to say that when he was recently manhandled in Sunyani during the People's Assembly, his comments were in reference to the Trial of the former first Lady, Nana Konadu Agyeman Rawlings but, "when I was beaten for defending her, one would have thought that she would even call me to say sorry for what I went through in an attempt to defend her. So I realize I have to stop and support the party just as anyone else does."
He revealed that after the Sunyani incident, Ashanti Regional Chairman of the NDC, Mr. Daniel Ohene Agyekum, paid for his medical bills and he appreciated that but still felt the party leadership could have shown appreciation for what he was doing for the party and wondered if the party's attitude would have been the same if it was an executive member who experienced what he went through.
For his part, the renowned Kumasi-based serial caller, Appiah Stadium expressed misgivings about his rejection by the rank and file of the New Patriotic Party (NPP) of late. He is worried because he claimed he had sacrificed a lot for the party and deserves to be treated fairly.
Appiah Stadium mentioned a recent confrontation with Mr. K. T. Hammond, Deputy Minister for Energy who reportedly rained insults on him (Appiah) when they recently met in Accra.
According to him, but for the intervention of the Minister of Finance, Mr. Baah Wiredu who cooled his tempers down, a nasty incident could have resulted.
The activist regretted that the Minister had the audacity to attack him the way he did when they met in the office of the Minister of Finance, in Accra recently.
Appiah Stadium was widely rebuked in June last year by NPP supporters for exposing what government officials did during foreign trips for which he was reportedly said to have cut his nose to spite his face. He has since not been accorded the support he enjoyed previously as people saw him as having bitten the hands that fed him.
Talking about sacrifices, Appiah Stadium wondered why someone like Dr. Charles Wereko-Brobby, who deserted the party and formed his United Ghana Movement (UGM) should be allowed to enjoy the fruits of the labour of foot soldiers of the party like him.
He pointed to Wereko-Brobby's tenure at the Volta River Authority (VRA) where he was reported to have messed up, and lately his engagement at the [email protected] Secretariat as chairman, as examples of how Dr. Wereko-Brobby had been given an opportunity to benefit under this government.
According to Appiah Stadium, everybody sees him as a "devil" because he did not mince words in telling the truth about what some government officials were doing.
He said his relationship with the President was not the best because, "he sees me as a devil and crazy person," and wondered why the president had not bothered to find out the truth about him.
Appiah Stadium, however, commended the Security Minister, Mr. Francis Poku; the Defence Minister, Dr. Kwame Addo Kufuor; the Minister of Finance, Mr. Kwadwo Baah Wiredu; the Interior Minister, Mr. Albert Kan Dapaah and a Kumasi-based Lawyer Kwadwo Owusu Afriyie alias Sir John for their little attention and encouragement, for him to keep his head above water in spite of all the odds against him.