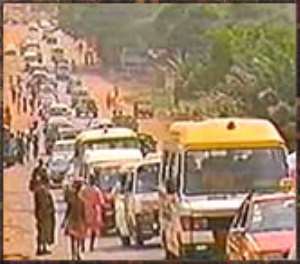 The government has voted 197 billion cedis towards the construction of the Sogakope-Akatsi road. The bid far the project was last Monday opened at Ho for the commencement of the project.
The Volta Regional Minister, Mr Kofi Dzamesi, made this known at the 40th anniversary celebration of the death of Lt. Gen. E.K Kotoka at Fiaxor in the Volta Region on Saturday.
The occasion was also used to raise funds for some development projects such as the construction of clinic, school, roads and electrification.
Mr. Dzamesi said the 8-kilometre road from Alakple Junction will also be constructed while that of Fiaxor would be tarred.
He called on the people to support government projects since the government would not consider party colours in the execution of development projects in the country.
'Don't say you don't belong to NPP government, so you will not enjoy whatever has been brought to the district. Whatever the government provides is for the benefit of all citizens, regardless of one's party affiliation,' he stressed.
He commended Lt Gen Kotoka for his role in the 1966 uprising, saying that 'it is evident that the coup brought an end to a dictatorial regime which could have exploded into worse situation as some countries in Africa are experiencing.'
'One cannot, therefore, totally ignore the role of Lt Gen Kotoka in the fight for democracy in the history of Ghana. In this wise, he deserves recognition and sympathy for his death,' the minister said.
He reiterated the government's commitment to pursue policies and programmes that were aimed at improving the socio-economic lives of the people, citing the Ghana School Feeding Programme, the Capitation Grant, the National Health Insurance Policy, the Millennium Challenge Account, among others, that were being implemented.

The Deputy Attorney-General and Minister of Justice, Mr Osei Kwame Prempeh, emphasised the need to accord heroes the necessary recognition to enable posterity to draw useful lessons from their achievements.

That, he said, could be done by documenting their successes and also drawing the attention of the people, particularly the youth, to such virtues.
He said it was unfortunate that the heroism of the late Lt Gen Kotoka was not accorded the needed attention in the history books and called for his placement in the right political history of the country.
The acting Awomefia and Regent of the Anlo Traditional Council, Regent Togbui Sri III recalled the bravery of the forebearers and called on the youth to replicate such honours.

He eulogised the late Lt Gen Kotoka, describing his achievements as a turning point in the historical advancement of the country.
'His heroism was a manifestation of the character of the people of Anlo ever since they migrated from Anlo under the tyranny of King Agorkoli.'
Togbui Sri pledged his support for the development projects initiated by the people.
Earlier, a church service and wreath laying ceremony were held in honour of the late Lt Gen E. K. Kotoka at Fiaxor.
Credit: Daily Graphic