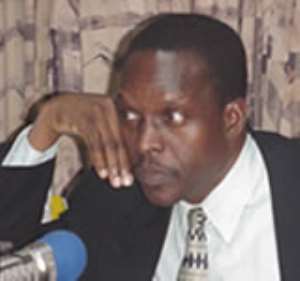 As the ruling New Patriotic Party (NPP) prepares to go to congress next December, the Minority Leader, Mr. Alban Bagbin has called on Ghanaians to brace. up for the worse.

He said that in opposition, the NPP told Ghanaians that they had the men to move the country from the doldrums and inefficiencies of the National Democratic Congress, "but in government we have seen that they are rather flaws."
He noted that, if these were the best of the men that the party had, "then those who would be following after them will perform worse than they."
In an interview with The Heritage newspaper in Accra last week, Mr. Bagbin said that if the best people have led us into darkness, "then those who would follow will speed us into the abyss."
He therefore called on civil society organizations and Ghanaians to be up and hold "those in government to do what is right for the country."

"We should not sit silent and allow the unbridled implementation of aggrandizement of wealth by politicians," he added.
Article 12, clause 9 sub-section (2) of the NPP Constitution says, "any minister, national officer or DCE who files to co¬test for any position shall resign his/her position," at least three-months to the time of congress. This provision, will affect at least seven cabinet ministers of the current administration.

These ministers include Papa Owusu-Ankomah, Minister for Education and Sports; Mr. Hackman Owusu-Agyemang, Minister for Water Resources, Works and Housing; Dr. Kwame Addo-Kufuor, Minister for Defence; Prof. Mike Ocquaye, Minister for Communication; Nana Akufo Addo, Minister for Foreign Affairs, Regional Cooperation and NEPAD; Mr. Alan Kyerematen, Minister for Trade, Industry and President Special Initiatives (PSI) and Mr. Felix Owusu Adjapong, Minister for Parliamentary Affairs.
In the event that all these men decide to go for the ultimate and resign their various ministerial ap¬pointments, the government would be compelled to appoint new people in their stead.

The cost of this massive reshuffle according to the Minority Leader, "will be immeasurable to the state." Apart from the time that the new ministers would take to adjust to their new job, stationery would have to be changed.
Credit: The Heritage