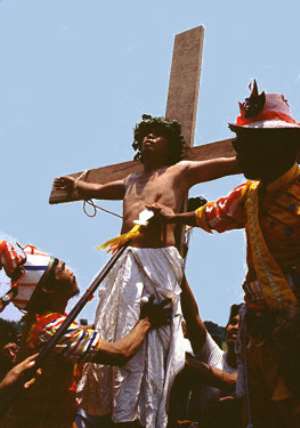 Christians in Ghana are today, Friday, April 6, 2007 joining millions of other believers throughout the world to commemorate Good Friday, a holiday and an important pillar in their faith.

Good Friday, which commemorates the crucifixion and death of Jesus Christ at Calvary, is observed with prayers and church services.
The government has declared the day a public holiday.

Some churches hold sessions that show the various stages Christ went through before his crucifixion and death.

Christians would be dressed in black and/or red to show their mourning for the death of their Saviour.

Many churches share the Lord's Super as Christ did before his crucifixion.

Many churches are holding conventions as they commemorate the death, which Christians believe is the ultimate sacrifice Christ made to conquer death with his resurrection on the third day.
Source: GNA