Rawlings Blasts Kufuor Again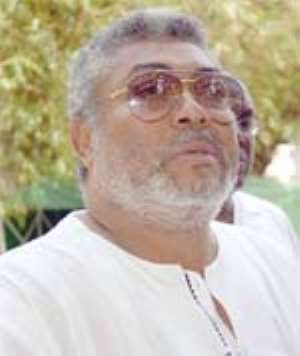 The former First Lady, Nana Konadu Agyeman Rawlings, has once again poured 'venom' on the president, John Agyekum Kufuor, calling him a thief.
To her, the president was not fit to rule the country, and could best be described as a crafty dictator, who preached virtue but practiced vice.
In an interview with the Voice of America (VOA) in Accra, Mrs. Rawlings said democracy was better adhered to in Ghana under her husband than under President Kufuor.
Asked whether, in her estimation, the current president was a crafty dictator, she said the phrase befitted him.
"I didn't say that, but I think that it's a nice phrase, and I would like to use it the next time.
You have a situation where you have a president who is always talking about the rule of law and yet from what is going on, it's a complete misrule of law.
While he's calling somebody a thief, they are busy stealing, while they are talking about somebody's wrong, they are doing worse.
Is that the kind of person that should be running Ghana today after where we reached? We should have taken off in a positive direction instead of moving backwards before we start paddling forward again," she said.
As usual, she accused Kufuor and his government of persecuting her family and members of the main opposition party, the National Democratic Congress (NDC).
"Our life would have been okay for me if the political vindictiveness of this government were to stop.
I was really looking forward to intensifying my work with the movement, (31st December Women's Movement) because I wouldn't be a First Lady anymore…but it hasn't been so because from 2001, we have had nothing but political harassment from the Kufuor administration," she noted.
According to her, the government was desperate in stifling the 31st December Women's Movement (DWM), which was her brainchild.
"It started when the head of security at that time, who was General Hamidu, wrote a letter to the movement to declare our assets to him and so on.
And we had to explain to him that we are an NGO, so we don't have to declare our assets to him because we already do that with the Social Welfare.
So, life has not been as smooth as one had wanted it to be because of political harassment and the lack of justice in the country for us," she said, and rejected the suggestion that her husband, Flt. Lt. Jerry John Rawlings, was also a dictator.
Instead she argued that while her husband did a lot for the average Ghanaian, President Kufuor and his government had done virtually nothing for the people, and the two personalities had nothing in common.
"I think that my husband, as a former president, run parallel with the current President Kufuor, they will never meet because my husband believes in the empowerment of the people… he did not work to make himself rich or own properties… on the other hand, Mr. Kufuor wants property-owning democracy, and in his attempt to achieve that, there is a lot of corruption going on.
Even his own party chairman told the whole country that, that is what was going on. So that is the basic difference between them," she contended.
Mrs. Rawlings denied that the political landscape in the country was even, claiming that apart from the security forces, government used the state media against the NDC.
"That is not true at all. If you look at the national newspapers for example, the NDC and other political parties are almost black out… it's like the national media is a network for the ruling government.
And yet it wasn't like that when my husband was in power. When he was in office, the opposition NPP (New Patriotic Party) were not discriminated against, but today, when the opposition holds any demonstration against the government, you would never see it on GBC (Ghana Broadcasting Co-operation)," she pointed out.
Nana Konadu Agyeman-Rawlings said she was looking forward to retiring from active politics and focusing on her Non-Governmental Organization (DWM), but her NGO soon started encountering politically motivated problems when the NPP took power in 2001.