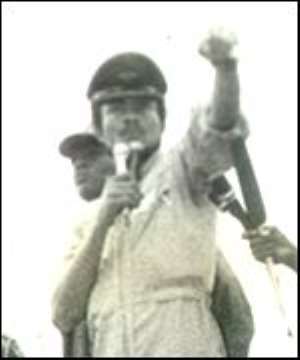 "Rawlings was born in 1947, to a Ghanaian, mother from Dzelukope near Keta, in the Volta Region and a Scottish father. He was educated at Achimota School but did not obtain his General Certificate in Education "O" Level due to disciplinary problems."
(en.wikepedia.org/wikj/Jerry_John_Rawlings).
I must say that I observe with great consternation, amusement and sometimes, annoyance when I hear of some of the booms of our former president and his cronies. I sometimes wonder where they get the moxie spirit to make some of the comments they spew out.
As I sat down last night flipping through some of my clippings of speeches and statements by the former President, I couldn't stop asking myself if Rawlings indeed said those things. Did he understand the things he was saying? What has changed? Is it a case of four legs good, two legs bad? (To quote from "Animal Farm").
Spend some time in reading some quotes from him in government and juxtapose it against his present pronouncements:
'Some have taken delight in running down the country to the outside world, caring very little for the consequences that their perverse stories could have on our economy." (January 6, 1994, State Opening of Parliament).
"We have come to the point where we must break out of the vicious morbid circle of destroying one another and instead learn to bear one another"s load and be individually responsible for our actions.
Because……….. We each have a part to play and that part does not include fault finding and blind criticisms because civil responsibility means doing something and not complaining that something ought to be done. ................ We are all in this together.
We must not be like the family who live on complaining street in the city of Never Been Satisfied . "They growl at everything and whatever comes they find amiss". They are known by the name of Grumble.
"To them the weather is always too hot or too cold. And even if everything went right they would still complain that there was nothing to grumble about. If anyone stays among them he learns their ways and is soon adopted in the grumble family".
(Rawlings's speech at the parade on March on March 6, 1997 at the Independence Square)
Compare the above to the infamous boom speech he delivered at the South Bank University in the UK. Today, who grumbles more than Rawlings? Who is going the extra mile to ensure that this government will be a failure?
Who is going round the world making irresponsible statements about the government of Ghana; warning and even calling for an uprising against the current democratic dispensation? Who is calling on the Military to call the current government to order? Remember the infamous "positive defiance" boom speech?
You remember his fanning of the controversy surrounding the Ya-Na's death? Read this statement he made some time past:
"Let me however sound a note of caution to those vested interests which are fuelling the unrest in the hope of making political capital out of it. In their narrow and callous political activities they have come to disregard the consequences that their acts of instigation have on the precious lives of innocent families and communities.
"Precisely because the stability of the nation has made those persons politically irrelevant, they have now come to regard constitutional rule as providing them wide latitude and the cover under which they have resorted to mischief as a means of gaining political stature".
(Parade Marking 37th Anniversary of Ghana's Independence)
Doesn't the quote go for Rawlings himself perfectly, especially when contrasted with his loose comments on the Ya-Na's death?
Did I hear him recently say that he did not partake in the 50th Anniversary activities because "my conscience and my principles will not permit me" and that "I cannot share the same platform with the same people who have taken every opportunity to denigrate us for the last seven years and see no good in what we did for this country."
Supposing the above assertions were true, what was a more opportune moment for unity than such an occasion, when eminent citizens were detailed to invite him and also especially when he himself had as far back as 13 years ago, remarked:
"We must therefore transcend the narrow boundaries of tribe or political party and rather intensify our efforts at straitening the bonds that unite us as a people." (March 7, 1994, Independence Square)?
Do you know that the man who once remarked that "I don't know any law and I don't understand economics, but I know it when my stomach is empty" and has thus of late, been yelling that Ghanaians are hungry and politicising anything (as if to say that all was rosy during his time), made this statement?
"We have urged our political opponents to recognise that we must not play party-political games with the economy. Even more decisively, the people of Ghana continue to make it clear that they are not taken in by the idle promises of any politician.
They know that in the midst of our own difficulties we are forging ahead compared to other countries in Africa and we are willing to sacrifice today for a better tomorrow for our children.
Our course, as in every democracy we sometimes hear a few shrill voices that sound as if they would roll back the clock of progress. They often capitalise on the hardships that our people had to endure.
They pretend to have instant solutions to the difficult tasks of nation building. I have no doubt that our people see through such over-simplifications."
Oh Jerry Rawlings, what a man!!!
Kobla Nuviadenu [email protected]