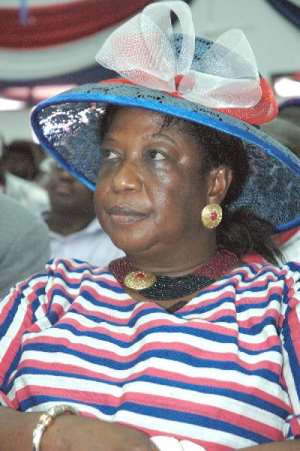 The year was 1948 and the location was Tarkwa a medium mining town. Here a soon to be trail blazer was born, in the tropical darkness of Sub- Sharan Africa a soon to be torch bearer and a doyen of Ghanaian women politics was born, heralding a period of great political awareness and consciousness towards independence.
As the youngest person to be honoured at the constituent level she was elected unopposed to help draft the 1979 constitution, by this she thus exuded traits of martyrdom with such optimistic temperament, boldness and persistent action culminating into stardom and making her a paragon of society.
In rising to the pinnacle of achievements, her hall of fame is replete with these significant laurels : she serves as the Patron of CAMFED( a UK based Charity Organisation), Patron GHASAP( Ghana Skills and Acquisition Programme), Patron NAWIP (Network of African Women In Politics), a former Member of Parliament, Bawku Central and a legislator in the ECOWAS Parliament.
In soaring above most men and as a monarch of all that she surveys, her global appeal and reach has been very phenomenal from her role as: Peace Envoy and a former Chairperson on Committee on Transport and Communication, ECOWAS Parliament, she dares us all with the assertion that impossibility is an opinion and not a fact, it is a dare and not a declaration, again impossibility to her is potential that requires courage, enthusiasm and impetus to overcome small thinking gnats.
As an advocate for peace and freedom, whenever and wherever tyranny threatened, she has always championed liberty. No wonder she accepted the mantle of leadership repose in her as the United Nations Observer in Charge of Special Monitoring unit for South Africa's all race elections, here the incandescent quality of her words illuminated the courage of other Observers.
Having weathered the severest storms of a troubled country and constituency (Bawku Central) her stately ship of life is anchored in the tranquil waters, proof that courage and faith and the zest for freedom are truly indestructible. The record of her passage will inspire free hearts for all time.
The Story of HAWA YAKUBU: one of a legend portends to the fact that bigotry and prejudice are the worst things any man could be guilty of, a story of hope and fulfilment, one that exceeds many expectations.
As a source of Inspiration Observers and Admirers, have seen a great leader, tanned, well tailored in command and on her way to make a better world through the art of politics.
By adding her name to the rolls of outstanding women: no statement or proclamation can enrich her name – the name HAWA YAKUBU is already legend, a mother to many and a comforter to the destitute.
Mummy rest in Peace, Ziga Ziga!!! Nantew yie.
Courtesy : www.hawafoundation.org
By members of Hawafoundation :
Michael Appiah, Wales([email protected])
Allen Joe, London([email protected])
James Bomfeh(Kabila), Accra - Ghana
Kadiri , Accra – Ghana
Yuki Ampofo, Accra – Ghana
Joshua Tetteh, Accra – Ghana
Michael Whyte Kpessa Hamilton, Canada
Patricia Amissah. Ottawa, Canada
Seth Asamoah Accra, Ghana
Yaw Boafo Agyeman Accra, Ghana