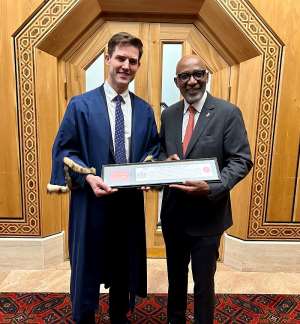 London, UK - Sir Trevor Phillips, the founding chair of the Equality and Human Rights Commission, has been bestowed with the Freedom of the City of London in honor of his exceptional services to the Barbican Centre and his unwavering commitment to equality, diversity, and inclusion.
Sir Trevor Phillips is a prolific writer and television producer with a diverse portfolio of contributions. He previously served as a member of the Barbican Arts Centre Board and acted as an advisor to the City of London Corporation's Members Diversity Working Group. His notable roles include hosting Sky News's flagship Sunday morning politics show, 'Sunday Morning with Trevor Phillips,' and contributing as a Times columnist, earning recognition as a Comment Writer of the Year finalist in 2020.
In addition to his media presence, Sir Trevor co-founded the data analytics consultancy Webber Phillips, chairs Green Park Interim and Executive Search, and serves as a non-executive director for the AIM-listed behavioral science consultancy Mind Gym. He is also at the helm of the global freedom of expression campaign charity, Index on Censorship.
Sir Trevor's nomination for the Freedom award came from Chair of the City of London Corporation's Barbican Centre Board, Tom Sleigh, and former Alderman and 684th Lord Mayor, Sir David Wootton. The ceremony took place at Guildhall and was attended by invited guests.
The Barbican Centre, owned, founded, and primarily funded by the City Corporation, stands as a world-class art and learning institution showcasing diverse art forms, including dance, film, music, theatre, and visual arts. Recognized as Europe's largest multi-arts center, it holds a place of prominence among the UK's post-war architectural achievements, drawing nearly two million visitors annually. The Barbican Centre significantly contributes to the economic, social, and cultural fabric of the City, London, and the UK, making an annual contribution of £40 million to the capital's economy and supporting over 800 jobs.
This cultural cornerstone is an integral part of the City Corporation's flagship Destination City program, which envisions the Square Mile as a premier leisure destination for both UK and international visitors, workers, and residents.
Sir Trevor Phillips expressed his gratitude after receiving the Freedom of the City of London, acknowledging the deep-rooted tradition and exceptional qualities that make London a unique and welcoming place. He also thanked the Barbican board for providing him the opportunity to contribute to the city's cultural life.
City Corporation Policy Chairman, Chris Hayward, hailed Sir Trevor as a trailblazer for inclusivity in the UK, recognizing his outstanding contributions and dedication to fostering a more inclusive society.
Chair of the City Corporation's Barbican Centre Board, Tom Sleigh, emphasized Sir Trevor's dedication to promoting equality and diversity, noting that his influence has left an enduring mark on the Barbican Centre community and across UK society.
The Freedom of the City of London, an age-old tradition dating back to 1237, grants recipients the privilege to carry out their trade. It is conferred upon individuals as a tribute to their exceptional contributions to London or public life or to commemorate significant achievements.
Recent notable recipients include theatrical legend Sir Cameron Mackintosh, LGBTQ+ activist and London Night Czar Amy Lamé, Bank of England Deputy Governor Sir Jon Cunliffe, and Professor Dame Sarah Gilbert, who led the development of the Oxford-AstraZeneca COVID-19 vaccine.