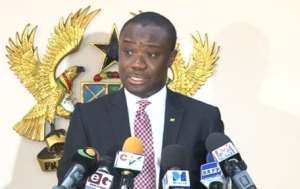 Felix Kwakye Ofosu, leading member of the NDC
A leading member of the opposition National Democratic Congress, Felix Kwakye Ofosu has criticised police arrest of protestors of the Occupy Jubilee House demonstration organised by pressure group Democracy Hub.
He urges the police to desist from the "nonsensical act" of arresting citizens who plan to protest the ills of the Akufo-Addo/Bawumia-led government.
In a tweet, the NDC spokesperson noted that even places like the White House and 10 Downing Street are allowed for US citizens to protest, noting that the Jubilee House in Ghana cannot be an exception.
"The Ghana Police Service must come off this nonsense of constantly harassing protestors. Akufo-Addo and Bawumia's useless governance is sufficient basis for daily protests. Even the White House and 10 Downing Street are places of protest. Jubilee House cannot be off limits," his post reads.
His jab comes amid reports that police disrupted the 3-day protest on Thursday and arrested demonstrators.
The police issued an injunction on the protest on Wednesday, September 20, a move the protestors ignored on the basis that they had not been properly served.
The police have arrested them when they massed up for the protest for breaching the Public Order Act.