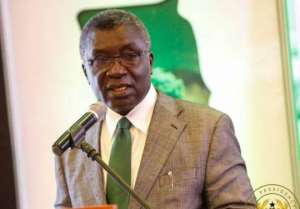 Professor Kwabena Frimpong Boateng, former Environment Minister
Former Minister of Science, Technology, Innovation and Environment under President Akufo-Addo's first term in office, Professor Kwabena Frimpong-Boateng has opined on NPP's chances in election 2024.
He said it would be very difficult for the ruling party to break the 8-year jinx of governance due to poor governance.
Speaking on Accra-based Citi TV's "The Point of View," the former Minister said the NPP has failed to deliver on the many promises it made to Ghanaians when campaigning for power.
"It will be difficult for the NPP to win the 2024 elections. It is a fact that they [the NPP] have over-promised and under-delivered but everything is possible but the NDC is also not giving me any hope," he said.
He expressed disappointment about the fact that his own NPP party couldn't deliver on its promises.
"When I was in government, I said the way the NDC had mismanaged the country, we were going to help the president and work so that the NPP would still be there even after forty years and there would be no romantic ideas about the NDC again and now look at where we are. I thought we were going to work and there would be no romantic ideas about Mahama and the NDC ever coming back," he expressed.
He opines that "There should be a change in the two political parties and how they do their things because there are very good people."