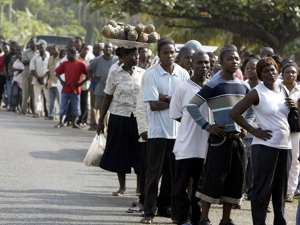 Voting is underway in the Nkoranza North Constituency of the Brong Ahafo Region where a by-election is being held to elect a member of parliament.
Polls opened at 7am on Tuesday and Joy News correspondents say voting has been peaceful and orderly.
The only problem so far has been initial logistic challenges where communities not easily accessible by cars had their polling materials delayed.
The Electoral Commission says the situation has been resolved, employing tractors and in an instance a bicycle to convey ballot papers and other logistics.
Correspondents say the police are maintaining a strong presence at polling centres and there have been random search of cars in the area following earlier rumours some disgruntled elements could disrupt the poll.
Retired Major Derrick Oduro is contesting on the ticket of the NPP, while a 31-year-old medical doctor Kofi Amoako-Gyambah is standing for the NDC.
The Democratic People's Party has also put up 53–year-old Osei Bonsu Jnr as its candidate.
The by-election has seen nearly all the big shots of the two main political parties virtually resident in the constituency, helping with campaigning and serving in several other roles.
The Central Regional Minister Nana Ato Arthur is a polling agent for the NPP's candidate, while NDC MP for Bole Bamboi, John Mahama is also a polling agent for his party's candidate.
The former Mayor of Kumasi, Maxwell Kofi Jumah, who is also MP for Asokwa in Kumasi is an observer while Haruna Iddrisu, MP for Tamale South is also an observer.
They all agree however that the polls have been largely peaceful.
Nana Ato Arthur predicted that the NPP will win and banked his verdict on the impact of President Kufuor's visit to the constituency on Saturday, which he described as the first by any sitting president.
His view was supported by Kofi Jumah who said the result would be a knock-out win for the NPP.
John Mahama on the other hand said he was cautiously optimistic about victory, counting on the quality of the NDC's candidate. He said the party's only challenge had been the slow take off of the party's campaign team, however he hoped the candidate's selfless service to the community would play out.
Former President Rawlings and Professor Atta-Mills were also in the constituency on Sunday to help the party's campaign.