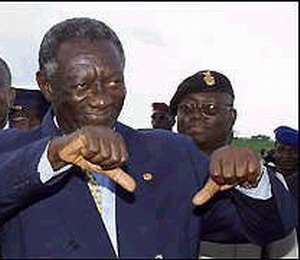 President John Kufuor has stressed Ghana's committed to using dialogue and debates to promote collaboration between the UN, AU and ECOWAS in resolving crises in Africa and beyond.
He was speaking on the Castle Gardens at the annual exchange of New Year Greetings with the Diplomatic Corps.
He said the UN remains the body that can promote collective security in the world. Ghana is committed to ongoing reforms and expects that the process will result in the expansion of both the permanent and non-permanent membership of the Security Council, with Africa getting two permanent seats to reflect current global realities.
President Kufuor acknowledged the successful election in the Democratic Republic of Congo and reiterated the call to the Sudanese government to find a lasting solution to the crisis in Darfur.
He further urged parties to the conflict in Cote d"Ivoire to resolve their differences peacefully.
President Kufuor warned that recent developments in Guinea portray potential trouble and Ghana will do everything possible to bring the situation to normalcy.
At the Sub-regional level he wished the president of the newly created ECOWAS Commission, Dr. Mohammed Ibn Chambas success, pledging Ghana's support to foster the needed congenial political and security environment for greater integration.
The Dean of the Diplomatic Corps, Mohammed Ben Labat, lauded the People's Assembly concept describing it as a social dialogue that reflects a genuine exercise of truth and accountability.
Mr. Labat who is also the Malian Ambassador acknowledged Ghana's unwavering diplomatic efforts to resolve crises in Africa. On the Golden Jubilee, Mr. Labat was of the view that the occasion will afford the nation the opportunity to showcase to the world its seminal role in the emancipation of the African continent.