Unique Trust boss endorses Prof. Frimpong-Boateng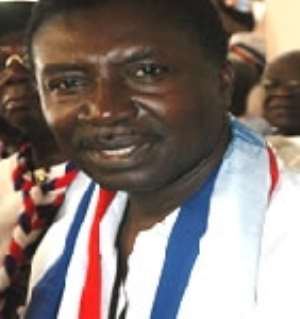 Mr. Prince Kofi Amoabeng, Chief Executive Officer (CEO) of Unique Trust Financial Services on Wednesday endorsed Professor Kwabena Frimpong- Boateng's bid to win the presidential slot of the New Patriotic Party (NPP) saying, "He has all the necessary qualities to lead the NPP and to be the President of Ghana".
"He epitomizes what we need to take Ghana out of the current rot and bring the positive change that this government have been talking about since it took power," Mr. Amoabeng said of Prof Frimpong-Boateng at the re-launch of the book; "Deep Down My Heart," authored by the Professor.
Mr. Amoabeng, who presided, told the gathering of about 230 eminent persons that he had stayed away from politics as possible but could not "deny myself the opportunity to endorse Prof. Frimpong-Boateng's bid to serve the country in a presidential capacity".
"This man has excelled in everything he laid his hands on to do; in academics and in his career and I personally know him to be a 'multi-tasker,' a rough rider and indeed he has qualities that make him a military man by all standards," he said.
Mr. Amoabeng said he had no doubt in his mind that Prof. Frimpong-Boateng could lead Ghana out of its deplorable state when given the chance, saying that, "this man is not asking us for money but that we look into his heart and give him the chance to bring us better leadership".
He said Prof. Frimpong-Boateng had proved by his commitment to the establishment the Cardio-thoracic Centre and the Heart Foundation "in the midst of all the stiff opposition both from government then and within Korle-Bu itself. He is not a typical Ghanaian who is easily surmounted by challenges".
Prof. Frimpong-Boateng said that when he was given the chance to lead NPP to the 2008 elections, he was confident that some very high profile members of the Minority National Democratic Congress (NDC) would vote for him.
"I know that if I get the NPP presidential slot former President Rawlings, Mrs. Mary Grant, Mr. Paul Victor Obeng and Nana Akuako Sarpong would vote for me and they will encourage more of their members to do the same," he said.
He said many Ghanaians had asked him to stay at Korle-Bu and "mend hearts" instead of joining the political train but stated that, "I have trained five heart surgeons for Ghana, 20 for Nigeria and one for Togo and I think this is the time to move on".
"I do not intend to stay at Korle-Bu and continue intimidating the younger surgeons, I would rather move on and guide them from afar," he said.
Prof. Frimpong-Boateng commended the efforts of Mr. P. V. Obeng, a Member of the former Provisional National defence Council (PNDC), Nana Akuako Sarpong, a former Minister of Health, Dr (Mrs) Mary Grant, a former PNDC Member and former President J J Rawlings for their support towards the establishment of the Cardio Centre in Ghana.
Prof. Frimpong-Boateng noted that Nana Akuako Sarpong (Captured in parts of the 177-page book) in particular had to "drive" the then World Bank (WB) Country Director out of Ghana for threatening sanctions against Ghana if the Cardio Centre was established because funds for the Centre could be used to treat all malaria cases in the country then.
Mr. P. V. Obeng launching the book noted that the then government had to take the challenge at the time to "meet the WB head-on" with the threat of losing support.
He noted that the re-launch of the book was a celebration of a phenomenon of a young Ghanaian expert who turned his back on comfort and affluence in the West and lucrative offers from G7 and OPEC nations and chose to return to his "HIPC country" to help his people.
"When we look at Prof. Frimpong-Boateng, it should encourage us to know that we have our respective Cardio centres to build to move this nation forward and he must brave all the storms and built them," he said.
The book, forwarded by Prof. Lade Wosornu, captured the experiences of Prof. Frimpong-Boateng from 1981, when he first proposed the establishment of the Cardio centre, when he returned to the country with a family of seven and had no accommodation, how he was turned down by the whole health sector, how his colleagues at Korle-bu attempted to sabotage his efforts until the Cardio centre was finally established.
Mr. James Ebo White, who reviewed the book, noted that since the law allowed people who caused financial loss to the state to be jailed, legislators should consider jail sentences for those who caused human resource loss to the state.
Mr. Amoabeng bought the first copy of the book for 50 million cedis. The second copy was sold for 15 million cedis and four other copies for 10 million cedis each.