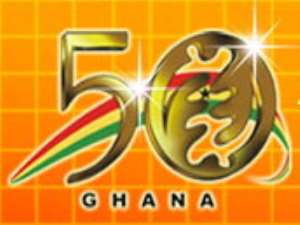 Two Ministers on Thursday queried the [email protected] Secretariat on the floor of Parliament on financial, planning and organization, questioning the use of monies collected so far in the name of Ghana's 50th anniversary independence celebration.



Dr Paa Kwesi Nduom, Minister for Public Sector Reform questioned the use for which the Secretariat was putting the 20 million dollar facility approved by Parliament for the celebration.
The Minister, in a contribution to thank President John Agyekum Kufuor for the State of the Nation Address, delivered on February 8, 2007, said the celebration was a great opportunity for Ghanaians to participate widely.
He regretted that people had complained that the Secretariat had often said it did not have ready cash for job done.
Dr Nduom however, said the Secretariat must be seen to be actively involved in the celebration in all the regions and the districts. The Minister criticized the [email protected] logo, saying it did not have the Black Star, which was in the middle of the yellow colour in the Ghana Flag.
This, Mr Kobina Tahir Hammond, Deputy Minister for Energy, on-a-point-of-order, said it would be very scandalous if it were found to be true.
Dr Nduom, continuing, regretted that people had gone to the Secretariat to get flags, but unfortunately could not get some.
He said there was the need to keep schedule and time for activities lined up for the celebration, citing an instance that a drama on the release of Dr Kwame Nkrumah, Ghana first President from prison earlier in the week was not well patronized and started very late against the scheduled time.
'The celebration was billed to start at 3 pm, but no one was seen at that time', Dr Nduom said.