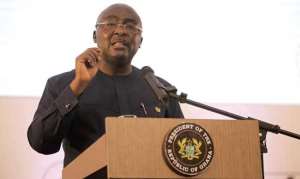 Dr Gideon Boako, Spokesperson for the Vice President, Dr. Mahamudu Bawumia, Friday night, debunked allegations on some social media platforms that he (Vice President) holds British citizenship.
In a post on his Facebook page, Dr. Gideon Boako stated emphatically that Dr. Bawumia had never held British citizenship, or any other citizenship in his life.
"The attention of the Office of the Vice President has been drawn to a malicious social media allegation that the Vice President holds a British citizenship while holding the office of Vice President, contrary to the laws of Ghana.
"We wish to state in clear terms that Vice President Mahamudu Bawumia does not hold British citizenship and has never held British or any other citizenship other than being a Ghanaian.
"The allegation should be treated with the contempt it deserves," the statement said.
GNA