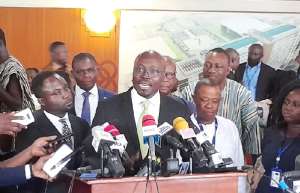 The Minority in Parliament has issued a press release reacting to reports of plans by government to sell parts of the country's stake in Jubilee Oil Holdings Limited (JOHL) to the Petroleum Oil and Gas Corporation of South Africa (PetroSA).
The issue of the divestment of part of Ghana's stake in Jubilee Oil Holdings Limited (JOHL) has been a matter of intense discussion in the media these past few days.
It has been alleged by the Minister of Energy, Hon. Dr. Matthew Opoku Prempeh that GNPC under the Chairmanship of Mr. Freddie Blay is working on a transaction to relinquish about 50% of the shares of JOHL to PetroSA, the state-owned oil company of South Africa.
According to the Minority, this action sounds at odds with the value of the JOHL assets to the State and does not advance the interest of the Ghanaian people.
In its press release signed by its leader Dr. Cassiel Ato Forson, it is demanding that governments see to it that any plans for the divestment of Ghana's stake in Jubilee Oil Holdings Limited are stopped.
The Minority wants the country's shares held by JOHL to be transferred to GNPC without any further delay.
"By this statement, the Minority calls on the Akuffo-Addo/Bawumia NPP government to transfer the shares held by JOHL to GNPC without delay, in order that Ghanaians can be assured that appropriate oversight is being exercised on these assets by Parliament and other stakeholders.
"This will only go a long way to ensure proper accountability and effective monitoring of the revenues accruing from our petroleum resources," parts of the Minority's press release said.
Read the full press release from the Minority below: