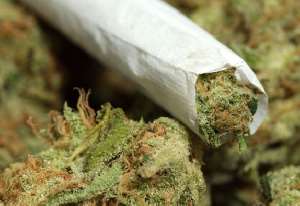 The Supreme Court has upheld its earlier decision striking down a law that permitted the cultivation of marijuana in Ghana for medicinal and industrial purposes.
In a 5-4 majority decision on Wednesday, May 24, the apex court affirmed its previous 4-3 ruling that nullified Section 43 of the Narcotics Narcotics Control Commission Act, Act 1019 that allowed marijuana cultivation for "medicinal and industrial purposes."
Presiding Justice Jones Dotse, citing that the threshold for reviewing the court's own judgement had not been met, stating "Fundamental and grave errors have [not] occasioned a substantial miscarriage of justice."
The invalidated section 43 had stipulated that "the Minister on the recommendation of the Commission, may grant a licence for the cultivation of cannabis popularly referred to as "wee" in Ghana, which is not more than 0.3 % THC content on a dry weight basis for industrial purposes."
However, in its July ruling, the court decided section 43 violated Article 106 of the 1992 constitution which requires explanatory memorandums for new bills, including policy details, defects in existing laws and remedies proposed.
The petitioner argued the memorandum laid in Parliament failed to sufficiently outline the policy change Section 43 brought.
The court upheld this position.
The Attorney General subsequently filed for a review, arguing amendments made by Parliament do not require accompanying memorandums, a myjoyonline report said.
But the court in a majority decision led by Justice Dotse ruled the threshold for reviewing its judgement had not been met.
The 5-4 decision ends attempt by medicinal marijuana advocates to legalise its cultivation in Ghana, with the court affirming that any marijuana cultivation remains illegal.