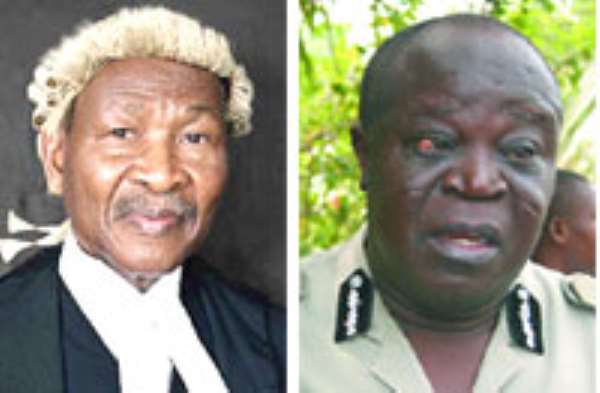 The Police administration has reacted strongly to allegations made by Mr. Sam Okudzeto, lawyer for Market Direct, a subsidiary company of Finatrade, over attacks the lawyer launched against the police at a press conference in Accra last week.
Mr. Okudzeto had questioned why the police had arrested three employees of the company suggesting that the charges preferred against a Panamanian suspect in the case indicated that they knew the person who imported the drugs into the country.

The Acting Director of Police Public Relations, DSP Mr. Kwasi Ofori, has described the accusations by Mr. Okudzeto as "untenable and a blatant lie," adding, "we condemn it in no uncertain terms and caution people who take delight in just criticizing the Police Service to put an end to it."

He said the police "won't succumb to any individual or company and would continue to be at the forefront in fighting the drug trade." DSP Ofori, who had expressed similar sentiments at a two-day workshop on Crime Combat organised by the Ghana Journalists Association (GJA) and sponsored by the British High Commission, was speaking to The Chronicle in an interview in Accra.

DSP Ofori said the police had information about drugs being on a vessel that was arriving from Peru, but had nobody in mind.

He said the police therefore, in collaboration with their port counterparts, waited for whoever would come to clear the container of yoghurt that contained the drugs.

According to DSP Ofori, it was based on this that Ayache, Quansah and Salami were arrested. He said logically, when substances such as drugs are found in goods or properties of an identifiable body or individual, that body or individual becomes the first focal point of investigations.

Mr. Ofori said subsequent to the arrest of the three, the company advertised, offering a $50,000 reward based on which they brought an informant who the police protected, collaborated with, and subsequently arrested the Panamanian suspect, Ricardo.

He said after preliminary investigations, while the suspect was in remand custody, they did not hesitate to furnish the court with the necessary information, through the prosecution, that led to the discharge of the accused persons.

He emphasised that notwithstanding the unwarranted attacks the police would continue to maintain its open-door policy and act professionally in investigating and prosecuting the case.

Mr. Sam Okudzeto was a member of the Police Council and was also the chairman of the committee that probed the May 9, 2001 Stadium Disaster that resulted in the death of over 120 people.