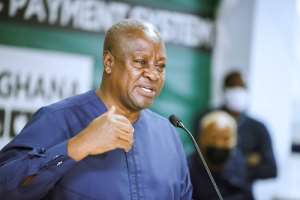 Former President, John Dramani Mahama has hit out at the ruling New Patriotic Party (NPP) over how it treated pensioners during the Domestic Debt Exchange Programme.
Finance Minister Ken Ofori-Atta launched the DDEP in December 2023 as part of efforts to restructure debt in a bid to secure an International Monetary Fund (IMF) bailout.
The subsequent months that followed saw pensioners demonstrating for over a week to ensure they are exempted from the programme.
While on his campaign tour of the Central Region this week, John Dramani Mahama sympathised with the pensioners, insisting that the aged did not deserve that treatment from the government.
According to him, for a government that subjected the pensioners to such stress, the NPP must not remain in power.
"Our own pensioners who have finished active service to the nation and are going to rest, the money that they earned that is supposed to feed them, [money] that they used to buy government bonds, today, this government says they cannot pay them what is there's.
"I ask myself: are you God to determine that the retiree will live that long to receive his or her money by 2035? Yet, that is how they have structured things. This is money that our pensioners use to purchase their little medicines to cater for themselves.
"If a government can behave like this to a segment of its most vulnerable population, that government does not deserve to remain in power," John Dramani Mahama indicated.
The former President has been in the Central Region in the last three days engaging delegates to convince them to vote for him in the upcoming flagbearer election of the National Democratic Congress (NDC).
The election will be held on May 13.