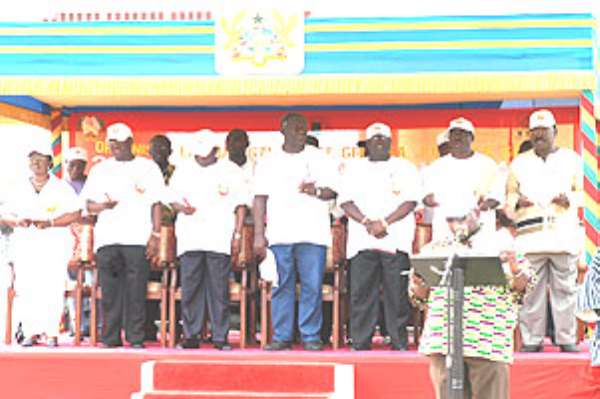 As Ghana gets ready to celebrate her 50th birthday, not too many Ghanaians are familiar with the national anthem and also recite the national pledge. Interestingly, not even the elites and the educated in the society could have the confidence to recite the national pledge.
A random survey conducted by The Point newspaper revealed that a lot of Ghanaians have forgotten totally about the anthem due to fact that they do not actually have any avenue to recite the anthem to enable them to be abreast with the words.
Some also assigned the reason to the fact that the anthem has been made in such a way that, it is only when one is in school that one gets the opportunity to sing it consistently. For Mr. Edmund Klufuo, the anthem should be emphasized in all public and private organizations. According to him, government should encourage these bodies to recite the anthem during their general meetings and other formal gatherings. Mr. Klufio also called on political leaders to encourage their members to make it a daily habit to recite it.
Some people The Point talked to also said they were yet to understand the meaning of some key words in the national pledge let alone recite it. According to them, they are not under any obligation to know the national pledge, perhaps the National Commission for Civic Education has also reneged on its responsibility to educate the citizenry on the importance of the pledge and anthem.
In some senior secondary schools in the country, the schools anthems have been given the top-most priority then the national anthem. Some of the students who were quizzed to recite the anthem were actually fumbling and interchanging the stanza's as they could not pronounce the right words in the anthem. For some of these students, they could only sing the first stanza of the anthem and recite the pledge, but would have to leave the rest for the 'air' to continue reciting it. In some cases, some of the students were actually singing in-between their noses in order not be found wanting with the right words.
The schools sing their school anthem and recite the national pledge occasionally but most students and their teachers do not really know the words in the anthem.