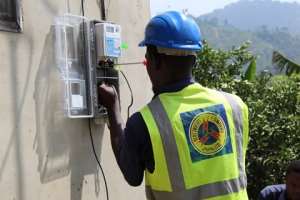 The District Chief Executive (DCE) of Amansie South District in the Ashanti Region, Mr. Clement Opoku Gyamfi has lambasted some staff members of the Electricity Company of Ghana (ECG) in the area.
According to the Head of government businesses, the treatment the power company is meting to its customers in the area is uncalled for.
He said the power will refuse to serve the utility with their bills but wait till when the bill has accumulated to levels that make it difficult for the people to the huge lump sum before they pop up.
"I won't mince words and let me also set the record straight, come to my district and see what the ECG workers are doing to my people. They won't bring a bill for six months.
"After six months, these connection guys will storm homes and be disconnecting people's power for non-payment of bills. How do you expect a farmer to settle his or her accumulated bill in about six months, just a day?" the DCE told the host of Angel FM's morning show.
The ECG has commenced nationwide revenue mobilisation from March 20 to April 20, 2023.
The exercise is meant to retrieve from the electricity users, including government organizations some GH¢5.7 billion owed the company.