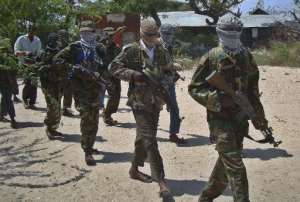 Al-Shebab recruits walking down a street in Mogadishu on March 5, 2012. By Mohamed Abdiwahab (AFP/File)
Washington (AFP) - The US military has carried out an air strike against an al-Shebab militant in Somalia and is checking whether the senior figure was killed in the operation, the Pentagon said Friday.
US officials declined to comment on reports from Kenya that the mission targeted Adan Garaar, who is alleged to have helped orchestrate the 2013 attack on the Westgate mall in Nairobi, which left 67 people dead.
But Pentagon spokesman Colonel Steven Warren said the strike, which did not involve any US troops on the ground, took place on Thursday and was focused on "a high-value target."
"This operation was conducted against the al-Shebab network," Warren said.
"We are currently assessing the results of this operation and will provide additional information as and when appropriate."
An armed drone carried out the attack, a US defense official, who spoke on condition of anonymity, told AFP.
The drone attack hit a vehicle near the town of Baidoa, west of Mogadishu, officials said.
The Pentagon had earlier incorrectly described the location of the attack as south of Mogadishu.
Baidoa, about 220 kilometers (140 miles) northwest of the capital Mogadishu, was captured by Ethiopian forces in February 2012, ending three years of Shebab rule and dealing the group a major blow.
Shebab has suffered a string of setbacks, losing territory in battles with regional forces and top leaders to drone missile strikes.
The United States took out another Shebab figure in a drone strike on January 31. A Hellfire missile fired by an unmanned aircraft killed Yusuf Dheeq, who the Pentagon said was chief of intelligence and external operations for the Al-Qaeda-linked group.
But the Shebab rebels continue to stage frequent attacks as part of their fight to overthrow the country's government and counter claims that they are close to defeat.
In the capital Mogadishu, the militants have attacked hotels, the international airport, the presidential palace, a UN compound and restaurants.
To retaliate against neighboring countries that have sent troops to Somalia to back the government, the Shebab rebels have also carried out a string of revenge attacks, including the September 2013 attack on the Westgate shopping mall in the Kenyan capital Nairobi.
Somalia's new government is supported by a 22,000-strong African Union force that includes troops from Burundi, Djibouti, Ethiopia, Kenya and Uganda.