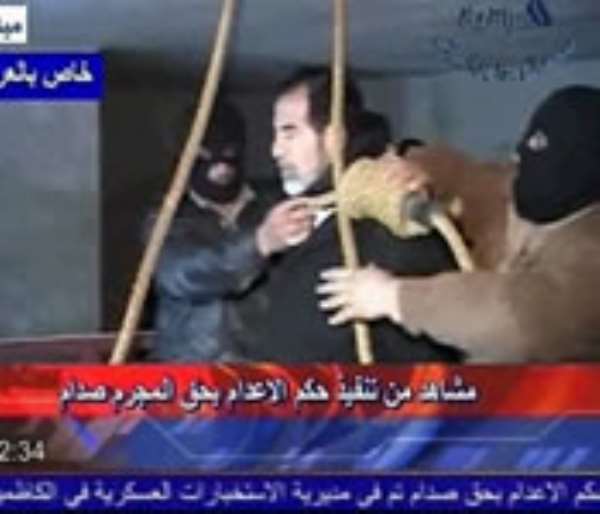 There have been mixed reactions among Muslims in Accra and Kumasi over the timing of the execution of former Iraqi President Saddam Hussein.
The former Iraqi leader, called cynically as the "Butcher of Baghdad" by millions of his oppressed country folk, was executed by hanging at a secure facility in northern Baghdad and died shortly after 6 a.m. on Saturday for crimes against humanity.
While many thought Saddam deserved his punishment and did not care how it came to him, they believed the timing of his execution which coincided with the celebration of Eid-ul-Adha, the Feast of Sacrifice, has cast a huge shadow on one of Islam's most cherished pillars.
"We don't need Saddam's blood for sacrifice. Allah will not approve of this and he should carry his own sins," said an elderly Muslim leader at the Trade Fair Centre in Accra where the national celebration of the feast was held.
From Kumasi, Joy News correspondents say similar sentiments permeated the large Muslim communities, some of who concluded that
the development was purely political rather than a religious issue.
There was however a general consensus that Saddam's elimination was no guarantee to peace in Iraq.
On the international front U.S. President George Bush is reported to have called Saddam Hussein's execution a step towards self-government, as Iraqi expatriates living in a Detroit suburb celebrated on the streets.
"Bringing Saddam Hussein to justice will not end the violence in Iraq, but it is an important milestone on Iraq's course to becoming a democracy that can govern, sustain, and defend itself," said Bush in a statement.
He added that Saddam "was executed after receiving a fair trial -- the kind of justice he denied the victims of his brutal regime."
Detroit has a large population of people who can trace their heritage back to the Middle East, including many who escaped Iraq during Saddam's brutal rule.
More than 150 people in Dearborn, Mich. are reported to have cheered, sounded their car horns and danced. Many were draped in both American and Iraqi flags.
Several in the crowd chanted "Now there's peace, Saddam is dead!"
Some had prayed for the former dictator's death at a local mosque, according to Imam Husham Al-Husainy.
"This is our celebration of the death of Saddam,' he told The Associated Press while standing on a car." The gift of our New Year is the murder of Saddam Hussein."
Elsewhere, reactions have still been mixed. Iran praised the execution, describing Saddam as the "enforcer of the most horrendous crimes against humanity.'
Many Iranians have deep resentment towards Saddam, and feel he should have been tried for invading Iran and Kuwait before being hanged.
In Afghanistan, President Hamid Karzai appeared to criticize the timing of the execution, but said it was "the work of the Iraqi government" and would have "no effect" on Afghanistan.
In Libya, flags were lowered to half-mast and a three-day period of national mourning was declared.
British Foreign Secretary Margaret Beckett said Saddam "has been held to account for at least some of the appalling crimes he committed.'
No unrest was reported in the streets of Arab capitals, but thousands of Indians, mostly Muslims, staged anti-U.S. protests.
Many Arabs criticized the timing.
"I don't have any sorrow or compassion for the man, but the timing is very stupid and Muslims will think this was done to provoke their feelings," Ehab Abdel-Hamid, 30, a novelist and senior editor at Cairo's independent al-Dostour newspaper told The Associated Press.
The Harper government has yet to issue a formal comment on the execution.
Some human rights activists were saddened by the news of Saddam's death, arguing that his death prevented him from being held accountable for other crimes.
"The rushed execution of Saddam Hussein is simply wrong," Reuters quoted Larry Cox, executive director of the American Amnesty International.
"It signifies justice denied for countless victims who endured unspeakable suffering during his regime, and now have been denied their right to see justice served."
The Vatican has condemned the execution as a "tragic" event and warned that it risked fomenting a spirit of vendetta and sowing fresh violence in Iraq.
"A capital punishment is always tragic news, a reason for sadness, even if it deals with a person who was guilty of grave crimes," said Vatican spokesman Father Federico Lombardi.
"The position of the Church (against capital punishment) has been restated often," he said.
The Catholic Church teaches that capital punishment today is unjustifiable because modern society has developed ways of protecting society from further crimes by the guilty party and that because only God can end a life.
"The killing of the guilty party is not the way to reconstruct justice and reconcile society. On the contrary, there is a risk that it will feed a spirit of vendetta and sow new violence," he said.
The Vatican, which opposed the U.S.-led invasion of Iraq, said Saddam's execution would likely worsen the situation on the ground.
"In these dark times for the Iraqi people, one can only hope that all responsible parties truly make every effort so that glimmers of reconciliation and peace can be found in such a dramatic situation."
Saddam, 69, was sentenced to death for his role in the 1982 killings of 148 people in a primarily Shiite town north of Baghdad.
But he was also charged with genocide and other crimes during a 1987-88 military crackdown on Kurds in northern Iraq.