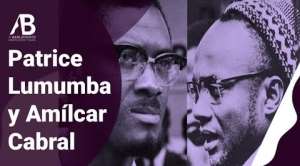 The Coltrane Jazz Club, situated at Adenta, in Accra [GPS Coordinates 5.70807,-0. 1663] is the kind of place that Ghana's capital has been lacking for quite some time now.
It is a place full of "COOL" surprises; excellent music and good company can be encountered and enjoyed there, without any prior notion that such a good time awaited one, if one could just manage to get there of an evening.
Saturday January 20, 2023, turned out to be one such evening for me. I read on the net that an event was to take place there that evening, to commemorate the death, fifty years ago, of Amilcar Cabral, leader of the PAIGC liberation movement, who was assassinated in Guinea (Conakry) by the Portuguese secret police.
Three speakers were listed - the erudite Prof. Kwame Karikari, former Director-General of the Ghana Broadcasting Corporation; Mr Kojo Yankah, founder and president of the African University College of Communications and a former editor of the Daily Graphic, and Ambassador Kabral Amihere, a former Ghana Ambassador to Sierra Leone and Cote d'Ivoire.
This should be a remarkable event, I thought. How wonderful that these guys had remembered that Cabral's assassination had taken place exactly 50 years ago, to the day!
Someone else remembered something else: that a certain person had interviewed Cabral on Ghana TV during Cabral's attendance of an OAU Liberation Committee meeting in Accra towards the end of 1972 and had returned to his base in Guinea a few weeks later, only to get killed. So that "certain person" had, perhaps, the last interview with Cabral that Cabral gave to any journalist!
You guessed right: that "certain person" was me. Well, as soon as memories were refreshed, I received an email asking me to join the panel of speakers (and politely apologising for the "omission" that had occurred when the programme for the event was drawn up.) I gladly accepted.
I did that because when my friend, the musician Hugh Masekela of South Africa, passed in 2018, the Coltrane Club had held a memorial event to honour him, and I had been invited to speak at the event. It had been a most enjoyable evening,
You see, Hugh Masekela had been such a great guy that no less a person than His Excellency the President of Ghana, Nana Addo Dankwa Akufo Addo, had organised his own memorial event to pay tribute to Hugh at Jubilee House, in Accra.
Again, I was honoured with an invitation to speak, and I fondly recounted what I knew of a man who had not only been a genius of a jazz trumpeter but also, a redoubtable freedom fighter.
I gleefully told the audience about my chance meeting with Hugh on the night he first blew the trumpet again in South Africa after having been away for over four decades; the encounter took place at (naturally) Kippy's Night Club in Johannesburg! Hugh was glad to find someone with whom he could speak pidgin English all night and remind him that he had once feared that he would never be able to travel back "home"!
Well, talking about Cabral to the Coltrane Jazz Club audience, I again concentrated on the unknown little details one notices about famous people who are recognised more by their political or academic achievements than by the peculiar traits of their personality.
Cabral (I said) exhibited curiosity about one small detail about our telecast: that GBC TV, although entirely staffed by blacks, was able to transmit complex programmes "direto" [live]. In other words, (he was educating the companion who was with him) there was nothing about modern technical operations that the people of Guinea Bissau wouldn't be able to master, once they took power into their own hands.
During the interview, he explained the importance of his movement having decided to occupy some regions in Guinea as "liberated areas". We want the people "to understand fully well that they ARE our mountains!" With them operating as poor peasants but training for military operations that enabled them to be transformed into fighters overnight, they were as "hidden" as the mountains that "hid" the Cuban revolutionaries and there was "nothing" the Portuguese could do to stop them achieving their complete liberation.
Yes, the Portuguese could attack villagers from the air. But they were not the only people who could obtain modern weapons. Guinea-Bissau was acquiring missiles and anti-aircraft guns from friendly countries to defend her people.
In fact, as he was speaking, there had been reports that Guinea-Bissau fighters had downed one or two Portuguese bombers, with missiles supplied by the Soviet Union!
Cabral was one of the most intelligent revolutionary leaders Africa has ever produced. He trained as an agronomist in Portugal and so had a scientific approach, even to social issues. But he was also a poet. Indeed, he so charmed the famous British historian, Basil Davidson, with his intellect that Davidson devoted many articles and books to the Guinea-Bissau struggle, small as the country was.
Basil Davidson actually took the trouble to visit Guinea-Bissau's liberated areas several times. They reminded him of the Yugoslav partisan-controlled areas he had operated in, as a World War Two British secret agent, operating behind enemy lines.)
Cabral's wit was impressive: once, when he was asked why he didn't seek Western support for his liberation movement, but relied on the Soviet Union, he replied: "It is only in fables that you can cross a river safely to the other side, in a canoe whose helmsman is the friend of the crocodile lying in wait in the water!"
On the morning Cabral's assassination was reported on the BBC, I immediately telephoned the news to the then Ghana Commissioner for Foreign Affairs, Col. Kwame Baah. He was impressed that I had beaten his entire outfit with the news, and he invited me to be part of the delegation that Ghana was sending to Cabral's funeral in Conakry.
We flew to Freetown, Sierra Leone, and then went by car to Conakry, crossing a big river en route, by ferry! I was frightened by that ferry; I don't mind confessing!
President Sekou Toure received us warmly in his palace in Conakry. He told us that he suspected that the Portuguese secret police had infiltrated the PAIGC and deliberately created racial tension between the Mulattoes in the leadership and the Blacks. The result was that Cabral had been killed by one faction of the leadership.
The Guineans were very sad at Cabral's assassination and mourned him publicly at the Conakry sports stadium in a ceremony that took about one whole week to complete. Col Kwame Baah read a very good speech written for him by a member of our delegation, the veteran top-class Diplomat, Mr E. M. Debrah (former Ambassador of Ghana to the US and Ethiopia and High Commissioner in London).
We took the opportunity to visit the Villa Sylla, in Conakry, where President Kwame Nkrumah had spent his last days. Guinea can thus proudly claim to have been the last home to two of Africa's sons, who were most devoted to the continent's liberation.
By the way Patrice Lumumba of the Congo was also assassinated in January -- 17 January 1961. Coltrane Jazz Club has plans for commemorating his death, too, as well as that of Dr Kwame Nkrumah!