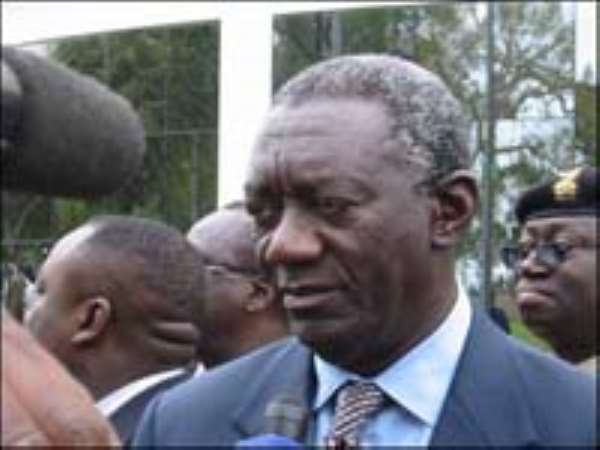 The country's current load shedding occasioned by electricity supply shortfall, is to be suspended during the period of the Christmas and Ghana's Golden Jubilee celebration. President John Agyekum Kufuor, who dropped the information at a quarterly meeting with the Council of State at the Castle, Osu, on Thursday, said he had received assurances from both the Volta River Authority (VRA) and the Electricity Company of Ghana (ECG) to this effect. The load shedding became necessary following insufficient amount of rainfall to maintain hydro-electricity generation and the inability to generate enough thermal electricity. Ghana's energy requirement is put at about 2,000 megawatts but the present total mix comes up to 1,200 megawatts.
President Kufuor said the problem was not the result of negligence on the part of Government or for want of it doing the right thing. He, therefore, appealed to the people to be patient with the system as efforts were being made to fix it up. President Kufuor said it was to help to ensure adequate supply of affordable energy to drive the economy that the Government raised a 40 million dollar loan to buy into the West African Gas Pipeline Project. The Project, delayed because of the volatile situation in the Nigerian Delta Region, would now come on stream by the first quarter of 2007.
President Kufuor also informed the Council that work on the Bui Hydro-Electric Dam, to be financed with a Chinese Government soft loan, would soon take off. He said the Energy and Finance and Economic Planning Ministers would travel to China to conclude agreements on the financing of the project in early January, 2007.
President Kufuor told the Council that the Government would never allow itself to fall into complacency and that it would remain focussed to sustain the progress it has made with the management of the economy. He praised the Council, saying "it has been an effective body of advisors to me and the Government. The nation has been well served by the Council."