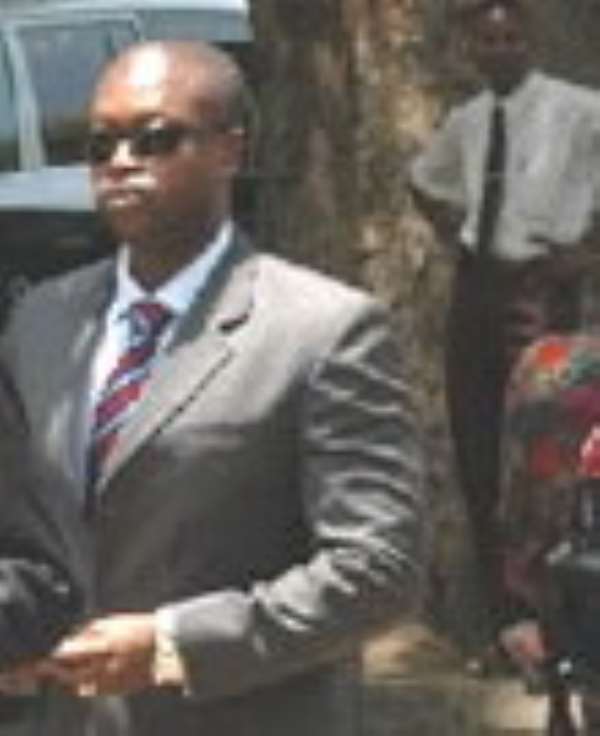 Kwabena Acheampong, one of the suspects arrested alongside Kwabena Amaning, alias Tagor and three others over the missing cocaine parcels, yesterday told the Fast Track High Court that ACP Kofi Boakye threatened Tagor.
According to him, this occurred during their infamous meeting at Kofi Boakye's house.
He made the revelation when he appeared in court as a prosecution witness against his colleagues, Tagor and Alhaji Issah, with whom he was initially charged.
The charges against him in the ongoing trial were however dropped by the Attorney-General last week.
Kwabena Acheampong, who is standing trial with the two accused persons, was produced as the First Prosecution Witness, while the Defence team expressed surprise at the action.
He told the Justice Jones Dotse-presided court, when led in evidence by a Principal State Attorney, Daniel Pobi that Kofi Boakye had accused Tagor of spreading rumours that he had stolen the missing parcels from MV Benjamin.
Acheampong further told the court that Kofi Boakye had angrily descended on Tagor in a phone call, after which he convened a meeting at his residence but Tagor denied spreading any such rumour.
The witness told the court that between 1989 and 1997, he was in the United Kingdom, serving sentence over a narcotic-related case but presently lived at East Legon, Accra.
He said somewhere in May this year, he had had information that Tagor's house at East Legon had been surrounded by the police, and being a friend of the man, he had called to inform him.
Acheampong told the court that when he called Tagor, he told him that he was in town and that he had been invited to the Police Headquarters.
At the Police Headquarters, to which he said he accompanied him, they met ACP Kofi Boakye, the Director-General of Operations, who accused Tagor of spreading rumours about him and the missing parcels of cocaine.
Acheampong said Tagor denied this and they left the Police headquarters but Kofi Boakye convened another meeting in his house; an invitation he said was delivered in an angry tone.
The prime witness told the court that he had accompanied his friend Tagor to Kofi Boakye's house again, where their host called Alhaji Imoru and they all sat under a tree and waited for Alhaji Issah Abass to join them.
Explaining further, he said Kofi Boakye repeated his accusation that Tagor had been spreading rumours that he had stolen the missing parcels of cocaine.
He narrated that Tagor and Alhaji Issah traded accusations against each other on the same subject.
Alhaji Issah, he said, accused Tagor of having cheated him in a previous business deal but Kofi Boakye said they should keep their ears on the ground about the missing cocaine parcels and inform him about any development thereof.
On recording of their conversation at Kofi Boakye's house, he said he heard about the tape only at the Georgina Wood Committee hearing.
Ellis Owusu Fordjour, lead counsel for Tagor, expressed surprise about the witness, saying until that moment, he had thought they were all suspects and asked for an adjournment to enable him and his team of lawyers consult their client.
Daniel Pobi however, asked the judge to give them only 30 minutes to consult their clients.
Under cross-examination by Ellis Owusu Fordjour, Acheampong said he was never invited by Kofi Boakye and that the word "cocaine" was never used by Tagor and Issah. Cocaine, he said, was replaced by the word "goods".
The accused persons were arrested four months ago, after which government set up the Georgina Wood Committee to probe the loss of the parcels of cocaine.
Detective Cpl Edward Yaw Asante, an investigator from the Narcotics Control Board (NACOB) was the next witness to testify.
He told the court that intelligence information made available to Ghanaian security authorities had indicated that a vessel laden with some parcels of cocaine were destined for Ghana.
The detective Sergent noted that on arrival, the vessel was stormed but the cocaine on board had been removed and taken to another location.
According to him, some suspects were arrested and probed over their involvement in the loss of the narcotic substance.
Explaining further, he said investigations by the Police revealed that 77 parcels of cocaine were loaded into a canoe and sent to an unknown destination, after which the ship was set on fire.
Tagor and Abass who were arrested after testifying at the Georgina Wood Committee, were remanded into Police custody last Monday when they appeared before the Fast Track High Court.
The two are jointly charged for conspiracy.
Tagor has additionally been charged for carrying out prohibited business relating to narcotic drugs, buying and supplying of narcotic drugs while Abass is also being held for carrying out prohibited business relating to narcotic drugs and supplying narcotic drugs.
The case has been adjourned to today.