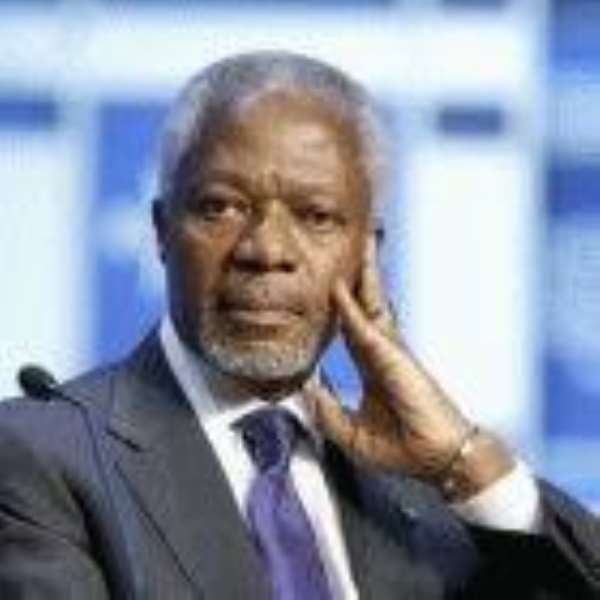 In three months time, Dr Busumuru Kofi Annan will seize to be the United Nation's (UN) Secretary General.
Last week, South Korea's Foreign Minister, Ban Ki-Moon, was passed by the UN General Assembly as the man to replace Dr Annan, who bows out of the UN in December this year, after two terms as the UN boss.
But, even before Dr Annan decides on what he would do after leaving the UN, a subtle campaign has begun in his home country, Ghana, to push him to vie for the keys to the Osy Castle, the seat of Government.
CITI NEWS is reliably informed that very prominent Ghanaians, both in country and abroad, have been contacting the out-going UN boss to consider running as an independent candidate in the 2008 polls.
A recent survey by private polling institute suggests that 68-year-old Dr Annan would sweep over 30 per cent of the total votes to be cast in 2008, if he agrees to take a shot at the Presidency.
The July Poll concludes Dr Annan would win victory in the second-round run-off.
But some political analysts say it would be politically wrong for Dr Annan to run for Ghana's Presidency, after serving two terms in a much more eminent position as the world's number one civil servant.
Dr Vladimir Antwi-Danso, an International Relations expert with the Legon Centre for International Affairs, is one of the people opposed to the 'Make-Annan-President-Campaign'.
"The fact that he has succeeded at the UN does not make it possible for him to be a good a President, and if I were him, I would study the Ghanaian landscape very well", he told CITI NEWS.
"It may be an appealing kind of thing", Dr Antwi Danso admitted, but was quick to add: "If I were him, I would rest...Why? Because he has no classmates in Ghanaian politics..."
The International Relations expert explained his position: "When I say classmates, it doesn't mean his classmates are not here. What I mean is that in the realm of Ghanaian politics, he has no roots ...he has no classmates. So it would be very difficult for him to jump into it".
"He may win an election, but be a failure in Ghanaian politics...I wouldn't advice Kofi Annan to come in for President at all", Dr Antwi Danso told CITI NEWS