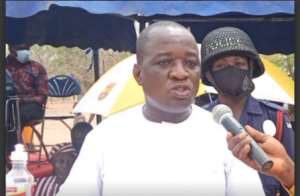 The Tempane District Chief Executive (DCE) Issaka Anabida has commended President Nana Dankwa Akufo-Addo a few days after visiting the people of the Upper East Region.
The DCE noted that the President's visit to the region is a show of love and concern towards the development of the region.
Mr Anabida indicated that the President commissioned the Upper East Region water supply system project which will provide the people of Bolgatanga, Navrongo, Paga, and its environs with 20,500 cubic meters of water per day which is approximately four and a half million gallons of water per day, a three-four increase from the 1.5 million gallons a day currently available to the region.
He added that aside the water initiative, the President has commenced several development projects in the region such as Agenda 111 which has currently benefited eight districts in the Region, One Constituency One Ambulance, One District One Dam, One District One Warehouse, Free SHS and more.
He is hopeful that by the time president Akufo-Akufo visits the region again the majority of the ongoing projects will be completed.