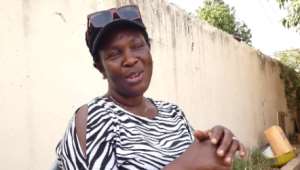 As part of our effort to promote and encourage entrepreneurs and development in the Upper East Region, this portal has exclusively engaged the Chief Executive Officer (CEO) of Amazing Grace Bakery and Catering Service Christiana Mensah, one of the finest entrepreneurs in the region.

Madam Christiana Mensah started her bakery business in October 2013. She is the originator of slicing bread in the Upper East Region, this and many crafts are information most people in the region were not aware of till now. She bakes sugar bread, wheat bread, butter bread and millet bread.
However, asking Madam Mensah some interesting questions about her bakery business, below are some of her responses.
"I am a teacher by profession but what I realized is that, when the children were growing up, you have to give them a good education, you have to give them a standard of living and looking at waiting up till the end of the month is not enough for me. So, I decided to venture into the bakery business. Bakery is something that my mother used to do those days and that is how come I started.
"The beginning wasn't easy. I started alone, I remembered I would put the stuff, the floor, and everything into my car and drive to school and from there I come and mixed it myself and in the night, I would bake, and transport them to the shop myself before I go to school. So, it wasn't easy. I started even with some small pastries going to church, that was before the bread itself. So, I make pastries just a little with an oven that I started with.

"I had a small space that used to be a goat pen but I realized that there was no need for that one again, because I couldn't take off the goat. So I transformed the whole place, changed the place, and then started the bakery. So, in the beginning, it wasn't easy all alone mold, put them into parts, arrange them, bake, packaging, and carry them alone to the supermarkets has not been easy."
Do you face any challenges with your workforce?

"For now, we have a problem with getting workers, because the work itself is tedious. So, when people come to ask for work, I tell them that the work is tedious and some come they stay and others come they go because of the difficulty in it. But currently, I have about six men am working with and I have decided not to work with any other lady again."
Why are you not comfortable working with women?
"I have had experiences. For the ladies, those who have boyfriends will want to go and meet their boyfriends and at the time that you need them to work, they want to go. Some are married, they want to go back and meet their children or the family and that is also another challenge, when there is work you could see that they are putting pressure on you, they want to close meanwhile, work is not done yet and the other thing is that you know women when they are at a place they will be talking and all that. The last group I had, in fact, they go to the extent of insulting each other because one person is not doing what the other wants. So, when they left, I resolved that wouldn't take a lady. I have one small girl who comes around during the weekends, she cleans and every morning she will come and clean before going to school.
"Men are productive more than women. That is my experience, I don't know of other people but for me, I think the men are more productive. They work very fast, they know what they are supposed to do, and they are up to the task. Sometimes, the same quantity the women will do, when the women were there we go as far as 11 pm but with the men by 5 pm we are almost rounding up."
What advice would you give to youth venturing into entrepreneurship?

"The advice is that, it's not easy to venture into business. If you are not determined, if you are not focused, you can't do it. It is not about gathering a lot of money to put into it, you can start somewhere, gradually. As I earlier said, I started with a small space and as time went on I had to break somewhere and add that space to it and at a point, I had to do another extension, that was when I started having my own machine in the house.
"And I must say, am the first person who started slicing bread in the Upper East Region. I was determined, I was looking everywhere and talking to people.
"So, don't listen to people. When I wanted to start someone told me that at this place, they only get their leftover TZ and eat and they are good to go and some will say, this business people don't start and stay here. But I was focused, I was determined to do it and I didn't listen to what the people are saying.
"There is one guy who motivated me so much, the CEO REINSAMIRA DAILY VENTURES Reyhard Adongo, he has been my source of encouragement. He is the first person I spoke to and he told me to do it, I want quality, I want a good product if you give it to me, I would sell it for you. He gave me certain guidelines and that is what has kept me up till today. I owe him a lot and wherever I found myself, I gave that credit to him."
What has been your observation as far as bread patronage in the region is concerned?

"The patronage is good. You know when I started, I didn't expand my works, I was dealing with just some two shops and then added another one. You saw the van, for now, we go out. The patronage is good because of the kind of product. I don't know but, there is a saying that the lizard doesn't praise itself, but for this, I can stand and say… I give good product and because of that some think my product is expensive but it goes with taste and everything and I set myself to a certain standard because I want to meet some categories of people and patronage has been good."
What is your most challenge with regards to bread production?
"Is not easy, the prices of materials go up every day. So, it makes the cost of production very high. As we speak, a bag of flour and sugar keep running and they are the major things used, and then gas. You know, as they increase the prices of fuel it affects everything and it makes the cost of production very high. But here where we found ourselves, you can't do much because you have to meet the people at a point if not, what we produced here is not how much we have to sell for people. So, we are trying but it is affecting us seriously, especially the gas. As for the flour, it increases every two weeks, last year it was just about Ghc 185.00 to Ghc 200.00 and today is Ghc 500.00 and a bag of sugar is same but we are managing."
Responding to whether bread producers are united In the Region

"One thing that this affecting us is that we don't have an association in the region. If we had come together with one mouthpiece, I think we will be able to sort things out better. But here is the case we don't have, everybody for himself, so everybody is doing what he or she wants to do. So, when it comes to increasing the prices, you see that if you want to do it you stand alone.
"Sometimes is not easy for a family to wake up just to want to take tea and you have to spend about Ghc 10 to Ghc15.00 in the morning. So, they should try as much as possible to work on whatever causes the prices of goods to go high, they should at it. The taxes and all those things, they should try and do something about it."