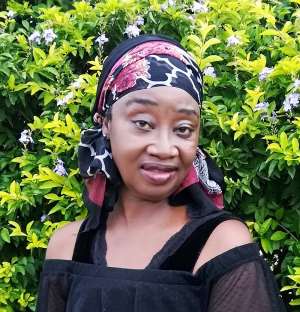 Dear Lord God of heaven, HEAL our homeland Ghana. STOP us from worshipping the god of corruption and using your name in vain, even as we STEAL
The Achimota forest debacle is certainly not solely about Sir John's bequeathed acres. oh No! Let us Get a Solid GRIP. It is wholly unholy. It is Verily about investigating past and present Presidents and their
hand-picked, haughtily knit, Ministerial hounds in wrong portfolios who cook up deals, paid-up candy flavoured misfit CEO's and unsuitable bandwagon Board Members without due or any expertise, all collaborating on the National Malady of mass Corruption, greed & monetized campaigns to easily purchase Votes.
This feeds the addictive cycle of RAW Power, shortchanging Ghana at its very apex levels, corroding its grassroots and compromising her future.
Dear Obaa Hemaa Ghana,
Truly State the entire Case.
You put on trial, the 'guilty' Dead
To Placate the rotten Palace?
Who else has Transgressed? The Achimota Forest Road
Which of them is not a Toad?
They all joined in the Toast
Dug into the juicy Roast
Now Sir John is in the Trash
They are in a ready Rush
To Avoid the People's Wrath
And mass Riots
Due the wicked dirty Rot they Plot
This case is not a legal Tiny-Tot
Tis a huge Pandora's Box.
They Dig forbidden gold Crusts
In Reserve forests and take cover at Dusk
All covered in Power Dust
And we await crumbs in Rust?
This is the Gospel Truth
They do not seek any Truce
Which of them can WE TRUST?
We cannot only deal with the dead Sir JOHN, for Show?
And the living Ignore, For Sure?
The fellow Sam Abu -Jinapor must be on furlough, So Long!
The de-installed forest
We must Restore
Living culprits should be punished Ashore
To Give Achimota Forest Requisite Rest.
When The sun Settled
Strong winds Whistled Achimota forest tresses brightly Bristled
Declassification also Wrestled
Abu Jinapor could not Resist
The Attorney General, Godfred Yeboah Dame could not the Ordered legal draft Desist
But the Law He must Reset
As the nation Dissent
He must the podium Descend
Declassification we Resent
We are defiant and Insist
Let Achimota Forest Rest
Can the S.P. Kissi Agyeben not kiss up but Persist?
Is it Sir John's sole assets
He must Conscript?
Let us Not cover-up the Achimota Forest bad Script
Sir John's "Will" to mightily Rip
Without major political Ripples?
One fallen gold gildered 'Villain'
To absorb old embalmed Errors
Sir John inhumanely did Err?
But not from the Rear
We all have Ears, we do Hear
We all have Eyes, we do evil See
We do not have to, the Powers that be, evenly Fear
*'Asem Seb3', profound Proverb
Do you need a New Thought?
You ought to be Taught
They do not give a Toss
As they rob & Rob
ColIeaques & Investigators even get Shot
When The matter is so Hot
Oh no please do not Shout
As you Ought
The truth has to Out
Sir John is being Tossed
All his many - a -splendoured assets to be Lost!
What about the living "Sods"
Who cut swords and write hideous Power Accords Should they not be Sought? And also Caught?
*****
Mindless unchecked looting of state assets continually LURK
As if Putrefied Politicians at the core of government want to provoke another horrifying Ghana PURGE?
Can they not SEE
An oncoming petrified Dirge
Which can forcefully SURGE Into a sacrilegious SIEGE?
*****
H.E. President "do-little about corruption & live-large", Akufo-Addo has no Stress
Though the belittled country is financially Overstretched
Ghana's "wanton" Press has been Dispersed
By the "agyapa" national Purse covertly Disbursed
Governance is in great Distress
And a Presidential Mistress?
Will not hold her Breath!
Though she is out of Reach
She wants to Lessons Teach?
EEK! Did Security Personnel Steal Her Picturesque Secretive "leash" for Real?
Reckless? OMG, I Digress?
Oh Sir John's forest Gifts
Expect inter-personal Rifts
Deathly departmental Risks
At the matters Depth
With delayed scattered Twists
There are thorny forest Twigs
Note that falsehoods do Trick
Fallacies get priority Picks
For Resolutions to be Quick
In this fiery forest prickly Fix
Which of them can we Trust?
At The Heart of the forest Affair
Do not the crucial aspects Defer
We Shall Never Ever Despair
If Achimota forest has not been Pre-sold?
As they mightily Proclaim?
Let our Resolve firmly Hold
They must Prove the Claim
Let us be forthright and RECLAIM
Mr Special Prosecutor, Please
Focus on an Active wholesale De-classification
Be wholesome and enact an Archival Re-classification
Not a diversionary Tactic
Of Just Sir John's assets Confiscation
*Investigate Owoo leases and sub-leases from 2006 to 2022,
A 16-year ransom now in Panic
Underscored by Forestry Commission Antics
And Corrupt Political Fanatics
What has been illegally Done
Must Be painstakingly Undone
TAKE CHARGE
As the deck of cards Crumble
Do not national destiny Gamble
As Power Politicians, behind the scenes threaten & Grumble
Be Bold, Resolute and Humble
Do not Succumb or Stumble
As Ghana unfolds her amoral Shambles
RECHARGE
"Pursue, Overtake, Recover ALL"
Reclassify the besieged 1185 Acreage Achimota Forest THAT IS ALL.
AMEN And AMEN ad infinitum
Copyright JUNE 3rd 2022
Email: busiafordemocracy@ yahoo.com