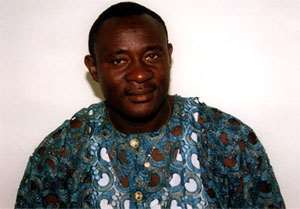 Anytime allegations of corruption have been leveled against officials in the Kufuor Administration by the media and members of the minority parties it has always been met with this response-show us the evidence.
In deed all through last week a Chronicle Reporter did exactly that. In a series of stories that bear the marks of laborious investigation, Mr. Raymond Archer provided a less than glamorous side to the persona of Deputy Minister for Presidential Affairs, Alhaji Moctar Bamba, a close confidante of President Kufuor.
The Chronicle fingered Bamba for his alleged role in securing bank loans for Emrate Investment Ltd using forged signatures of ministers of state on letterheads of the Office of the President.
He is also believed to have flouted a constitutional provision that precludes ministers of state from holding positions in any private enterprise or any private business.
Presenting a laundry list of allegations, the Chronicle also reported that Bamba used both his name and his office to acquire Austrian visas for certain individuals the paper associated with the New Patriotic Party, NPP.
Government's response was swift and timely. Castle sources say an embarrassed President Kufuor read Bamba the riots act-resign or I fire you.
Having learnt a lesson from the case involving disgraced former Sports Minister Malam Issa who spurned the same Presidential ultimatum and went to jail as a result, Bamba ended his "official" flirtations with the Kufuor administration and resigned. SCAPE-GOATING? The news of the deputy Minister's resignation would come as a refreshing line of defence for the many apologists of this administration and for several reasons. First it steals the thunder from critics of the government who have said that this administration "dealt with" Malam Issa because he was an outsider (being a guy from the People's National Convention, PNC) and wouldn't be able to muster the political will to clamp down on its own (officials of government who are New Patriotic Party, NPP members). Wrong. Those who know the President well are aware that he has his inner circle. (As a matter of fact most presidents the world over have their own inner circle constituted basically by a group of people who form the core of their most loyal advisors, friends and backers).
Alhaji Bamba was one such a person. He was in Kufuor's inner circle and a respected one at that.
My sources tell me Bamba was very instrumental in all the two Kufuor campaigns for the Presidency and that he was brought to the Castle specifically after the 2000 elections where he became the eyes and ears of President Kufuor.
Unfortunately he got so head swooned and probably forgot that politics is a game that goes beyond the veneer of friendships and camaraderie.
Although he hobnobbed with the political giants of his time both as an astute party official working in the background and during his tenure as a deputy Minister, Bamba woefully failed to grasp the most fundamental rule in the game of politics and that is political survival. POLITICAL SURVIVAL Fortunately political survival seems to be the terra firma of President Kufuor. At 65 years old it is safe to assert that this President has seen it all and done it all. He is of the "been there, done that" hue of politicians. He started a distinguished career in public office as early as his late twenties when he was Mayor of Kumasi. He has been doing this almost all his adult life. And he knows the game of political survival more than any contemporary politician-Rawlings included-but that is another subject which would be addressed later.
(In fact in an interview before the 2000 elections which I reported for the Chronicle he made the assertion that but for military interventions he would have long left the political scene to serve as a mentor for young up and coming politicians).
So it is safe to glean from the above that this President sees this opportunity as one long in coming and he would be a fool to let a political upstart like Bamba blow it for him.
This guy must have been dumb to think that he would not be called to account for his alleged shenanigans especially when it shows up in an election year- a year no sitting President would want to give or be seen to be giving his opponents the fodder for their attacks on him. LESSONS In politics there are no permanent friends but permanent interests. The friendship goes as far as the interest is catered for and once the opposite occurs it is time to say adios. In this case, a young, ambitious friend of the President was rewarded for his astounding political accomplishments. However when his actions and inactions were placed under the microscope they weighed heavily on the re-election chances of the President and in an election year you don't need such a baggage. To the President's advisors Bamba was baggage and he had to be discarded and that is what happened.
On the brighter side I applaud Bamba's resignation because it is great news for Ghana. For choosing the honourable exit from public life he would go down as one of the few Ghanaian and possibly fewer African public office holder to have resigned from office when it was time to bow out.
Ghana is better off for that and posterity would remember him long after this. I wish to congratulate my friend and colleague Raymond Archer for his commitment to his professional credo and for living up to it. This story is a credit to you and folks at the Chronicle for holding on to the end.
You have shown that painstaking investigations which are oft-times very winding and time consuming pay off. Views expressed by the author(s) do not necessarily reflect those of GhanaHomePage.