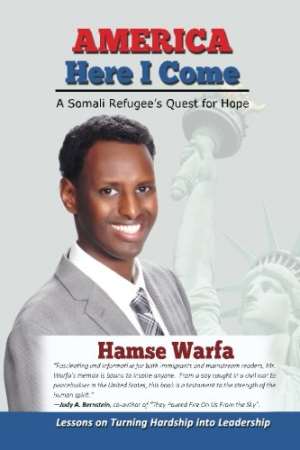 MOGADISHU: SOMALIA. The white house announced this week that Hamza Warfaa will join the Biden administration, making him the first Somali-American presidential appointee in US history.
The federal government of Somalia, academics, Islamic scholars, politicians, technocrats and intellectuals hailed US president Joe Biden on Wednesday for appointing Hamza Warfa, a Somali-American, refugee, Muslim, black, Immigrant being appointed as a senior consultant to the US state department, despite systemic and institutionalized racism in the US.
" We are extremely jubilant, euphoric and welcome the appointment of Warfa by US president. We extend our congratulatory message to him and the Somali people" Somali government spokesman Mohamed Ibrahim Moallimu told the me dia, while Somali women organizations came together a brief ceremony to celebrate the appointment of Warfa and few women were seen applauding and ululating for the victory that Hamza has achieved . Moallimu said warfa's appointment is an indication that Somali are very active, dynamic, resilient and have entrepreneurship mindset, prowess and experience wherever they live..
Warfa was born in Mogadishu, Somalia his family fled from the Somali civil strife and move to neighbouring Kenya, where they live various refugee camps for several years before they received a resettlement opportunity advocated and sponsored by the UNCHR, he later relocated to the US accompanied by his family.
He said after arriving in the United state as a teenager in 1994 alongside his family, he received a bachelor degree in political science from SanDiego state University in California and his Master's in organizational management and leadership from Springfield College in the same city. He moved to Minnesota in 2012 after he was recruited by the State's largest philanthropic foundation. Margaret. A. Cargill philanthropies, he elucidated.
The 2016 electioneering season inspired Warfa to became more active in civic engagement. The strong anti-immigrant and anti- Muslim policy and actions, Motivated me to organize and mobilize and get more involved at the State level Warfa siad.Some of Minnesota gubernatorial candidates, talked about shutting down the refugee program and it coincided with former US president Donald Trump issued an executive order banning refugees and asylum seekers from seven Muslim majority countries to set their foot in the US soil and also suspended .(DACA) Program .deferred act for childhood arrivals also known as dreamers.it is a legal act that offers unaccompanied minor to remain in the US and those accompanied for their parents.and in some cases created pervasive fear and trepidation about refugees in Minnesota anxious about their future destiny and fate, especially about Minnesota's Muslims, Somali community.
Warfa's list of accomplishments and lifetime achievements also include being the co-founder of BanQu Inc.a blockchain service created to broaden economic opportunities for low-income people across the globe, as well as the recipient of 2016 Bush fellowship for social entrepreneurs.
" When we talk about democracy and human rights, there are plethora of downtrodden, oppressed, disenfranchised, alienated and marginalized people seeking desperately for Justice, I want to make sure we talk about inclusive democracy " he told US media outlets.
" I want to bring my both lived and professional experience to help the administration expand access to those affected by government policies and actions. I want to see America live through its ideals in building multethnic, multiracial and multireligious democracy that protects everyone " he added. " I hope people see in my example from refugee camp to representing America--- hope for democracy and value of everyone's voice and vote"
He has been serving as the deputy Commissioner for workforce development at Minnesota department of employment and economic development. (DEED) Warfa who had held the position since april 2019, has been the highest- ranking African immigrant in the state government. " We congratulate Warfa it is a fantastic opportunity for a young, well-educated Somali-origin lad" Said Abdirahman Sheikh Azhari, Director of the center for analysis and strategic studies, a Somali based Think-tank...
"He said it is not easy to be appointed to the role in an administration like that Biden- Harris with the eyes and the attention of the world on it. Specifically for a black Muslim Immigrant from the Horn of Africa.
It is a golden opportunity for the Somali diaspora as a community across the world, the US and Hamze particularly to serve the US" highest office in which he can influence the policies towards Africa and Muslim world.
He said the appointment shows exactly how well-integrated immigrants and refugees can contribute to a large nation like the US. If the Somali communities continue to pursue their dreams, integrate, settle, and contribute to the western world. They will produce more successful leaders who can be a role models to young Somali's inside Somali and beyond.
This appointment deserves to be celebrated and commended. Azhari said.
Prof. Hassan Sheikh Ali nour, lecturer of political science and international relations at Somali national University and Dr. Badawi the dean faculty of political science and public administration at Mogadishu University had unanimously concurred and said Warfa's nomination for senior adviser on democracy and human rights by President Biden is a historic milestone in race and religious recognition in the United states of America's political participation and citizenship.
Warfa said in a tweet that he is excited and elated and so ready to get to work along with incredible public servants in the Biden- Harris administration. According to the reports Warfa became the first Somali-American presidential appointee in history, another Somali Immigrant, Ilhan Omar made historical achievement in 2018 when she became the first Somali-American to be elected to the US congress and Deko Dhalac who was elected as a mayor of South Portland in Maine which is the most populated white state in the US.
Somali-American civil and political leaders are now active in US politics in all levels of government whether it is local, state and national or federal level. Hamza Warfa will help, advocate, promote and advance president's democracy and human rights agenda both in the US and overseas.
ABOUT THE AUTHOR: MOHAMED HUSSEIN MENTALIST. Author, blogger, prominent researcher, Horn of Africa Affairs analyst and senior lecturer at Mogadishu University.
AUTHOR..Holds BA in English Language and literature at Mogadishu University and BA in Business administration at Simad University. Master of arts in applied Linguistics at Kisii University in Nairobi as well as Master of peace and conflict studies at Uppsala University in Sweden.