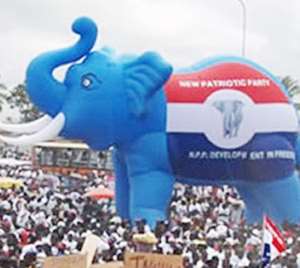 There is something that every politician, in the Ghana of today, ought to be guided by - if she or he wants Ghana to continue remaining a peaceful and stable African democracy: No tribe in the Africa of today, is inferior, or superior, to another. Full stop. The Kyei Mensah Bonsus, Simon Osei Mensahs, Yaw Osafo Marfos, John Boadus, and Bernard Antwi-Boasiakos, amongst others, of that ilk, must watch their public pronouncements, carefully, in that regard.
For their information, their abominable, unpardonable, unspeakable pillaring, ditto stereotyping, of none-Akans, in their public pronouncements, will, as sure as day follows night, eventually trigger political assassinations, as a new form of destabilizing-ethno-terrorism: in which vocal tribal-supremacist politicians are targeted for abusing their fellow Ghanaians. The writing is on the wall, so to speak. Yooooooo...
Secondly, since political power in every democracy is transient, if your party rules Ghana, at any given point in time, it is most unwise to let power go into your head - for that is suicidal in a nation with high youth unemployment full of well-educated and aspirational citizens, fed up to the back teeth, with the greed and infernal-arrogance, of the big-thieves-in-high-places brutally gang-raping their beloved Mother Ghana. Yooooooo...
Finally, it is obvious that many of the ruling New Patriotic Party's (NPP) leading lights did not get the import of the December 20 presidential and parliamentary elections' nationwide skirt-and-blouse voting-pattern, which resulted in the hung Parliament of today. Unbeknownst to them, they are drinking in the Last Chance Salon, and have become inebriated, totally, from 95 percent moronic-booze, oooo. Enough is enough, ooooo. Yooooooo...