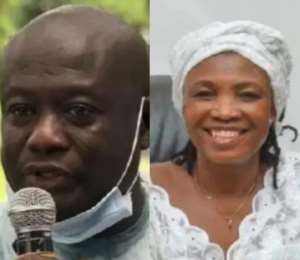 Savannah Regional Minister, Hon. Saeed Muazu Jibril has revealed that President Akufo-Addo has directed him to renominate rejected MDCE nominees Alele Veronica and Tamimu Mohammed for Bole District and East Gonja Municipal Assembly respectively.
The Minister noted that it became prudent after they failed to meet the threshold of 2/3 majority of the votes cast.
According to him, the President after a close-door meeting in Accra directed him to renominate them and ensure that they are confirmed through legal means to fasten the development of the respective assemblies.
"Per the standing orders, the 21 days period after the president's nomination of the two nominees has expired.
"The president has therefore ordered me to write officially to the two assemblies notifying them about the renomination of Alele Veronica of Bole district and Tamimu Mohammed for the East Gonja municipality, the regional minister explained.
He said this on Damongo based Pad FM weekly flagship program dubbed "Aboya-gbon" on Sunday, October 10, 2021.
New dates for their confirmation will be announced soon, he said.
Hon Alele Veronica polled less than 50% of the 39 votes (17 yes votes, representing 43.58%) on Wednesday, October 6, 2021 at Bole.
Section 15 (7) of the MMDAs states that "Any nominee who at any time fails to poll fifty percent of the votes of the members present and voting "may be renominated on reasonable grounds or may be withdrawn by the president".
East Gonja Municipal Assembly had its election cancelled on October, 4, 2021, after some disturbances during the process in Salaga.
The Savannah Regional Minister is expected to officially write to the two assemblies to inform them about the renomination of the two.
All the five confirmed MDCEs in the Savannah region were sworn into office on Thursday, October 7, 2021.
Quizzed on what would happen if they are rejected by their respective assemblies again, Mr. Muazu said he is hopeful they will meet the threshold this time round.
He was quick to add that in the event that they fail, he will advise the President to have them replaced.