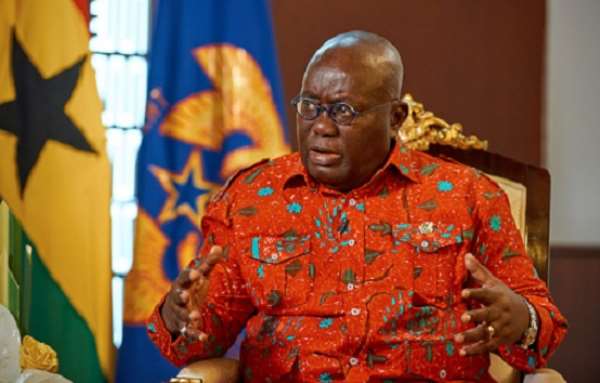 President Nana Addo Dankwa Akufo Addo
Apart from corruption and incompetence, which played major roles in the failure of the NPP government under the leadership of President Nana Addo Dankwa Akufo Addo, nepotism is another factor, which negativity quickly acted as a catalyst to the rapid collapse of the NPP government. This article will reveal it.
Education is the key to development, employment, and better life opportunities, however, in Ghana, in certain aspects, in order to occupy a high state post, whether you have studied hard at school or not or whether you are qualified or not, you can get that post if you are related to the president.
Judging by the incompetence of many Ghanaian politicians that are draining the country's resources yearly, with all kinds of benefits and bonuses, while they keep the common people, including the youth hungry, due to the lack of ability to create jobs, it is worth saying that nepotism is evil.
Many graduates and school leavers are at home for many years facing an unemployment crisis, yet without any problem, many Ghanaians that are within the family circle of Nana Addo Dankwa Akufo Addo or have good connections with family and friends quickly secured jobs in the country.
Nepotism can be very satisfying as you have provided all the members of your family work, therefore, you have no burden, however, that evil act of distribution of state posts, can bring a chain of destruction and disaster to any government. That is what has happened to Nana Addo Dankwa Akufo Addo.
According to the NDC's National Communications Bureau, at least, Nana Addo Dankwa Akufo Addo has appointed 51 people they believe are either family members or friends of the president, in his government.
Since the NPP government has a number of Nana Addo Dankwa Akufo Addo's family in it, the president avoids any corrupt member of the family to pay for his or her mistakes.
In fact, the president covers every politician that is involved in corruption either to avoid embarrassment or to soil the name of the party. That's why today, Nana Addo Dankwa Akufo Addo still has Charles Bissiw, Eugene Arhin, and Chief Justice Anin-Yeboah, in his administration.
The president's continuous protection of corrupt politicians and members of his family in his government are some of the reasons that led to the resignation of the former Special Prosecutor, Martin Amidu, from his government. Nana Addo Dankwa Akufo Addo never allows Amidu to do his job the way he wanted.
The NPP government shouldn't say probably during the leadership of John Mahama, the same thing happened in his government, therefore, we don't care.
A little difference builds a great government. Any intelligent president wouldn't do that because protecting and keeping corrupt politicians in your government also means the president is corrupt.
Nepotism remains a quick product of failure in any government, especially, if your relative is not doing a good job in his or her post, the president will find it difficult to speak about it.
Ghanaians have witnessed the incompetence and corruption at the High Court, during Gloria Akuffo's era as the Chief Justice. The same abuses of office and corruption have been inherited by Kwasi Anin-Yeboah. The country has also witnessed the heavy debt incurred on Ghana with Ken Ofori- Atta, another relative of the president, who is the Finance Minister.
In any country in which your wife, aunt, cousin, brother, is a judge or the Minister of Finance and your daughter, an employee of the prosecutor's office, it doesn't bring success to a country. The government of that country will flop.
Such government becomes like a lucrative business that promotes corruption, at the same time, depriving qualified unemployed graduates and the youth of opportunities. Therefore, Ghanaian politicians mustn't only discourage corruption but also tribalism and nepotism.