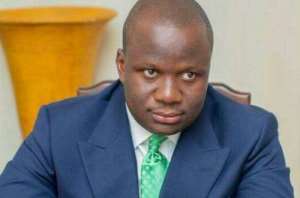 Good day Hon. S. A. Jinapor,
I wish you well as you explore your new office as a Minister of Lands and Natural Resources. In as much as we are proud of this appointment, our relative expectations practically swell high and above that which we would have been expecting from an ordinary MP without any such position of influence in government. So, you need to flow with us when we come making certain demands of you. By analogy, he who much is given, much is expected.
An effective democracy function on the wheels of effective participation of the citizens. One of this is constructively critiquing the decisions of leadership as much as practicable. I have therefore decided to participate by writing you this letter.
I have listened to you over last week when you addressed the press at the port. In that address, you said unequivocally that the government through your ministry has decided to offload confiscated ROSEWOOD for the construction of the National Cathedral, until such a time that it's complete.
To begin with, I wish to rely my reasoning on one of the maxims of equity which has it that…"equity will not suffer a wrong without remedy". The people in Northern Ghana have been raped off one of our gift from God—Green Savannah, without any remedy.
This wrong was and still being perpetuated without the express consent of the majority of the people but a few state officials and traditional authorities.
Beyond its economic uses, we all know that rosewood has other medicinal benefits and the back of it is mostly used to dye our Northern smock.
Meanwhile, the people in the above listed regions are having to bear the brunt of the vicious rape of their natural resources (ie rosewood). The rain pattern has changed drastically and the multiplier effect has rendered many peasant farmers helpless and frustrated. We all saw the ravages of the very recent rainstorm on the people of Damongo, Yapei in the Yapei-Kusawgu Constituency and many more communities in the region.
With all due respect Hon. Minister, I am left with no option than to submit that your decision to offload the harvested but confiscated rosewood for the construction of the Cathedral is unfortunately misplaced. Once you are the embodiment of your constituents, you owe us a duty to make decisions that will reasonably reflect our needs and aspirations.
There are many schools in your own Constituency-Damongo, which don't have furniture. Most students still learn on the floor, so, why don't you make furniture out of this at least for your constituents? Why must we the people from your constituency and many others in Northern Ghana be raped twice?
The level of illegal logging of this precious tree species (rosewood), has left a gaping hole and an indelible scar on the savannah forests. The only way ordinary people of the region can be compensated for this rape is when furniture is made out of the rosewood for the schools and some other public institutions.
What will be the economic benefit of the cathedral to your constituents in Damongo? Why are you ripping Peter to pay Paul? The chunk of the rosewoods are coming from Gonjaland (Savannah), and so if there is a decision of government to offload what has been confiscated, equity demands that Savannah and the others in Northern ought to be considered first before other regions.
I am therefore by this letter suggesting to you as my MP, to reflect on the decision you communicated last week and put your constituents and the people of Savannah first before you decide to waste our resources on a venture that has no direct bearing on the socio-economic development of your people.
-Signed-
Issifu Seidu Kudus Gbeadese
(The Youth Imam from Laribanga)