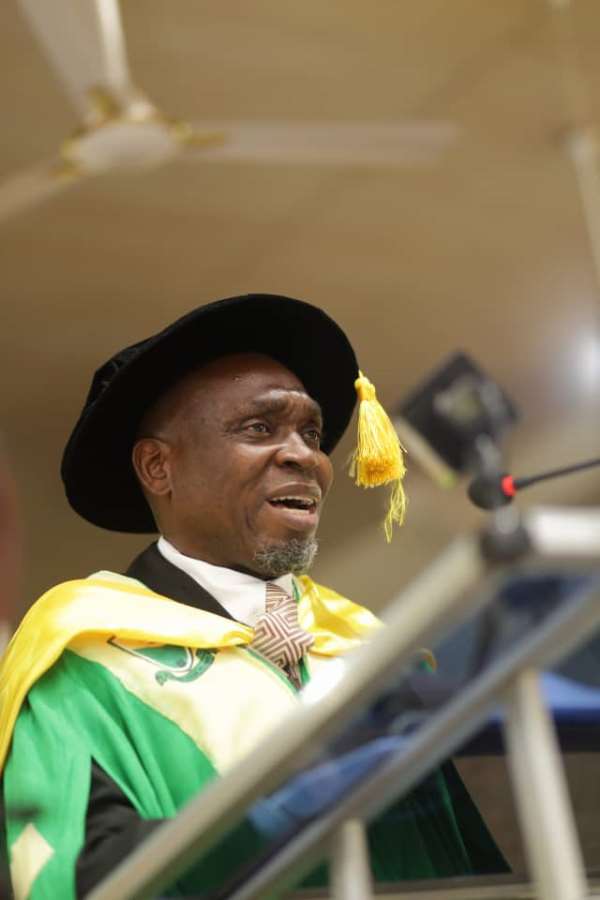 In less than 3 months in office as the President of the Evangelical Presbyterian University College - Ho (EPUC), Professor Edem Kwasi Bakah has revealed he has no fears in his bid to succeed.
On Tuesday, March 30, Prof. Edem Kwasi Bakah, in an interview with Kofi Gamor on West FM's Morning Show (West Breakfast Drive) re-echoed some notable changes he'll effect as President of EPUC, having started work.
It is a fact, that to turn the fortunes of an Institution suffering from numerous glitches, one must have few challenges, but the French Professor has a diverse style.
The University of Cape Coast Governing Council Member, however, called for the support of the 'doubting Thomases', saying, he is a man of action.
"All who think I won't be able to achieve my goals set are right to think so. I would refer those people to my past about some promises. I am as well a man of few words; I believe more in action than in words. In the next couple of months, I'll grant you another interview to outline a few things we've been able to achieve. And I believe from that point, the doubting Thomases will begin to rethink. So, for now, what I need from them, is to come and support."
When asked, if he has any fear as a factor in his bid to change the treasures of the Premier University, he stated, that he won't entertain fears in pushing the EPUC Agenda.
"Fear is a state of the mind. And whatever we want to do, if we entertain fear, it means, we can't do that. I don't entertain any fear in me, especially when it comes to pushing the EPUC agenda. If you'll consider the challenges as things that will put fear in me, then they don't, because like I said, there's enough goodwill I'll rely on to push the agenda. So definitely there are no fears."
Professor Edem Kwasi Bakah has been given a four-year mandate upon his appointment by the Governing Council of the Evangelical Presbyterian University College-Ho as the 3rd President and tasked to ensure that the University stands out among other private universities across the country and beyond.
Assuming office on February 1, 2021, He however believes that by the time he will leave office, EPUC will be Independent (have a Charter) and be one of the top Universities in Ghana with their graduates being Hotcakes on the job Market across the Globe.
Brief Profile
As an Academic, Researcher and Administrator, Prof. Bakah has worked in the university environment as a Principal Research Assistant from 2004 to 2005, Lecturer from 2005 to 2011, Senior Lecturer from 2011 to 2018 and Associate Professor from 2018 to date at the Department of French of the University of Cape Coast.
Prof. Bakah has over sixteen (16) years of rich experience in Higher Education and has contributed immensely to postgraduate education through teaching and supervision of over thirty (30) postgraduate students including six (6) doctoral students. He continues to train and mentor a number of postgraduate students and young academics.