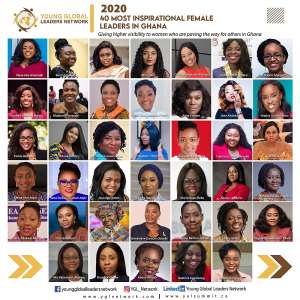 The 2020 40 Most Inspirational Female Leaders in Ghana list celebrates 40 inspirational women who are future leaders, business leaders or leaders in an organization or political leaders and are making a tremendous contribution to gender diversity, women, and youth empowerment in Ghana. These individuals serve as role models to the youth.
40 Most Inspirational Female Leaders in Ghana, initiative of Young Global Leaders Network, organizers of Young African Leaders Summit and Young Ghanaian Leaders Summit 2020, is an international youth leadership development organization with active presence in over 16 countries.
This is a network of young social and business entrepreneurs, young politicians, young diplomats, young business leaders, innovators, educators, policy makers, young professionals, future leaders and talented young men and women changing the world with their talents.
The network seeks to be the world's leading organization that trains, mentors, and prepares young leaders for diplomacy, politics, business leadership and entrepreneurship.
Young Global Leaders Network is a registered company and operates in the United Kingdom (Company number 11775356) and Ghana (Registration number CG072582020).
The committee responsible for this initiative set for themselves criteria and received in-house nominations from members and management of the organization. Nominees were scrutinized and the below list made it to the final 40.
Nana Aba Anamoah: Nana is a TV host and journalist from Ghana. She studied banking and finance in the Ghana institute of management and public administration. Nana is one of the hottest TV personalities to ever grace the Ghanaian screens. She is currently at GH One TV. Her success in this industry speaks for itself as she has won several awards including TV personality of the year, TV news anchor of the year and Ghana journalist association of the year.
Beryl Agyekum: Beryl Agyekum has a degree in civil engineering, but she channeled her passion to have a career as a creative marketer. After seeing a gap for a single go-to offering for students to connect and collate their memories and experiences, she and some pals put their creative heads together… and Echo the magazine was born. Mrs. Beryl Agyekum Ayaaba has been awarded Young Achiever (Female) Award at the just ended 5th EMY Africa Awards.
Claudia Lumor: She worked at Santander Bank UK and later moved to Ghana to work with Stanbic Bank in 2010. Lumor was named amongst the speakers of Woman Rising, a network for women entrepreneurs. She is the founder of Glitz Africa Magazine and the glitz style awards. She is also the Executive Producer of Glitz Africa Fashion Week Ghana.
Afia Pokua: She studied law at Gimpa (2010-2014). She is a philanthropist and founded the vim foundation to help the less privileged. Also, she is the CEO of high-speed media institute. she won the excellence in media at multimedia group limited. Currently she is the programs director of United television.
Dr. Caryn Agyeman Prempeh: Dr. Caryn is a medical practitioner. She is the founder of a nonprofit organization called CERVIVA focused on creating awareness and educating women on cervical cancer. She is also host on GH ONE known as "Late afternoon show".
Anita Griffiths Buako: she is the former president of rotary, Secondi Takoradi. During that time, she organized breast screening for market women in Takoradi. She disclosed its intention to expand the treatment room at the Kwesimintsim Hospital in the Effia-Kwesimintsim Municipality when handing over.
Dr. Naomi Adjepong: Naomi Adjepong is the Director of Operations at Alpha Beta Education Centers, a family owned business. she has designed and implemented a full-time leadership track called the Adinkrahene Leadership Program. She also co-directs a social enterprise - Emerge Leadership Ghana Ltd, which designs and runs leadership development programs for teenagers.
Shirley Frimpong Manso: She is the founder and CEO of Sparrow Productions, a film, television, and advertising production company. She won Best Director at the 6th Africa Movie Academy Awards. Frimpong-Manso is also a principal of Sparrow Station, a video streaming service for African entertainment from Sparrow and other African film producers. In 2013, she was ranked the 48th most influential person in Ghana according to E.tv Ghana.
Elizabeth Patterson: Elizabeth is the founder and director of the Girls Education Initiative of Ghana which provides academic and financial support for girls, with a special focus on students with special needs.
Kafui Adzah: Kafui Adzah has received many recognitions from the Ghanaian business sector, recently listed as the 27th most influential young Ghanaian, the 31-year-old has revolutionized the way people eat. Her company, Cookhouse GH has been involved in a lot of corporate and diplomatic catering, including 5 branches of The Bank of Africa, where Kafui used be an internal auditor.
Sarah Femi Adetola: Femi is the Founder and Executive Director of the Fair Justice Initiative. She is a graduate of Wesleyan College (2006) and University of Ghana (2009) and qualified as a lawyer at Ghana School of Law in 2011. She is now a Senior Associate at Ampem Chambers, a member of Ghana's Prisons Board, and a successful restauranteur.
Anita Erskine: She is a keynote speaker, a master of ceremonies (MC), a TV host and a radio presenter. In the course of her work, she has won awards for radio and TV personality and female presenter of the year in 2017.Currently, Anita is the owner of Reverbgy, a strategic development company.
Jane Awindor: Popularly known as Efya is a female songstress in Ghana and has won for herself many awards. She is an official ambassador for the Awal Children of the Future Foundation (ACOTF), a non-profit organization aimed at helping victims of physical and emotional trauma, particularly orphans and street kids.
Jessica Opare Saforo: she is a Ghanaian media personality, TV and radio broadcaster and entrepreneur. Also, she is the host for Transformation with Jess, Ghana's first ever weight loss reality TV show. She is the owner of The Voice Ova Company, a business that specializes in managing voice talent.
Farida Bedwei: She is a Ghanaian software engineer and cofounder of Logiciel, a fin-tech company in Ghana. Farida Bedwei has built mobile and enterprise applications and is also known for her knowledge of software architecture and deploying mobile services. 2013 – Winner of Most Influential Women in Business and Government Award Financial Sector.
Yvonne Nelson: She is a Ghanaian actress, model, film producer and entrepreneur. Nelson founded the Yvonne Nelson Glaucoma Foundation in 2010 to help create awareness about the disease. With support from other Ghanaian celebrities, she recorded an all-star charity single and shot a video to help educate people.
Yawa Hanson Quao: She is a Ghanaian founder , social entrepreneur and a feminist . She sits on the board of Ashesi University College , serves on the Advisory Board, Women's Institute for Global Leadership. She is founder of the Leading Ladies Network (LLN), and a member of the African Leadership Network and the World Economic Forum's Global Shapers Community .
Deloris Frimpong: Popularly known as "Delay", is an entrepreneur, television and radio show host, producer, public speaker and Women's Advocate in Ghana . In 2018, Delay received the Women Empowerment Award at the 3G Awards in New York , in recognition of her feminism and championing the course of women in society. She was also first on Pulse Gh list of five most industrious celebrities in the country in 2017.
Dr. Zanetor Rawlings: She is the member of parliament for klottey-korley constituency. In March 2014, she was a special quest of the exceptional meeting of African women framework of the crans- Montana forum. In June 2015, she led a team to donate relief items to victims of the Goil oil fire and flood disaster which took the lives of about 150 Ghanaians.
Francisca Oteng Mensah: She happens to be the youngest parliamentarian under Ghana's fourth republic, member of parliament for kwabre east constituency. In December 2017, she was appointed as the chairperson of the national youth authority. Also, she was part of the management of national youth authority to donate PPE's to ministry of health to combat the deadly corona virus.
Hon Sarah Adwoa Safo: She is the member of parliament for Dome - Kwabenya and, she is the newly appointed minister for procurement and currently the deputy majority leader of parliament. she was a nominee for the noble's forum award in 2012. She has set up the Adwoa Safo foundation (ASF), an NGO, primarily dedicated to providing livelihood support to vulnerable groups.
Abena Osei Asare: She is the member of parliament for Atiwa East. Prior to entering parliament, she worked as the assistant director for the New York university of Ghana between the period of 2004 and 2007. She currently serves as a board member in parliament. Also, she runs an NGO, the Waterbrooke Foundation which supports brilliant but needy students with their education.
Nana Dokua Asiamah Adjei: She is currently the member of parliament for Akuapem north constituency and deputy minister of information. she opened a two-day photo exhibition organized by graphic communications group limited (GCGL).
Joycelyn Tetteh: She is a member of parliament for North Dayi. She is an anti-human trafficking ambassador for Ghana by the international organization on migration and, an ambassador at the regional launch of the standard operating procedures (SOPs) to combat human trafficking. She has plans of sensitizing people on human trafficking.
Samira Bawumia: Hajia Samira Bawumia is the Second Lady of the Republic of Ghana. She is the Founder and CEO of Samira Empowerment and Humanitarian Projects, a non-profit organization that focuses on Health, Education, Gender Parity and Women Empowerment, as well as Entrepreneurial Development. She shot to prominence in the 2016 Ghanaian Parliamentary and Presidential electioneering period. She boldly campaigned against corruption and inefficient management of state resources. She quickly became a role model for many Ghanaian young women.
Gloria Boye-Doku: Gloria is a Partner with Deloitte's Tax and Regulatory practice based in Ghana. She has over 12 years of professional experience spanning the areas of Indirect Tax, International Tax, Business Tax, Tax due diligence, Personal Taxes and the management of payroll and Immigration Services.

Gloria had a brief stint with the Deloitte UK office where she trained in the provision of Immigrations services. She has assisted several multinational and large local companies in resolving compliance issues with a number of regulatory authorities in Ghana including the Ghana Revenue Authority, the Ghana Immigration Service, Ghana Free Zones Authority, and the Social Security and National Insurance Trust.

She is married to Mr. Jonathan Boye-Doku and blessed with three wonderful children.

Recognition and awards earned by Gloria include, outstanding Tax Professional Award - Deloitte West & Central Africa – FY12, "Dare to be Epic Award" - Deloitte Africa - FY 16, In tune with Deloitte award "Proud and Passionate Deloittian" Deloitte Ghana - FY17, Most knowledgeable at working capital management - Deloitte Ghana CEO's Award – FY19.

She is a member of the Association of Chartered Certified Accountant (ACCA) and a member of the Institute of Chartered Accountants, Ghana (ICAG).

She holds a master's in business administration. Gloria spends time mentoring less privileged girls.

Akosua A. Manu: Akosua is currently the Deputy Chief Executive Officer (Finance & Administration) of the National Youth Authority. Starting off her career as a social marketer and a banker, Akosua worked with Ghana Commercial Bank (GCB) and Max International. She is known to be one of the successful and influential people in the social marketing industry. She was appointed to the office of the First Lady to serve as the deputy Director of Communications in 2017.
Prof. Naana Jane Opoku-Agyemang: Born 22 November 1951 as Jane Naana Sam in Cape Coast, Ghana) is a politician and educationalist who served as Minister for Education in Ghana. She is currently the running mate to the flagbearer of the National Democratic Congress (NDC), H.E. John Dramani Mahama. She is a member of the National Democratic Congress (NDC). She was appointed in 2013 by President John Mahama after the 2012 Ghanaian general election and served until January 2017. Opoku-Agyemang is a Fellow of the Ghana Academy of Arts and Sciences, University Teachers Association of Ghana, English Studies Association, African Studies Association, United States, African Literature Association, United States and International Fulbright Scholars Association, Commonwealth of Learning, among others. Opoku-Agyemang has been honored with honorary degrees from the University of West Indies and Winston-Salem University. She has also received an award for Global leadership from the University of South Florida in Tampa. She has also received the Officer of the Order of the Volta award for Academic Distinction and Ghana Women of Excellence Award in the Education category. She has been acknowledged for Outstanding Performance in Advancing International Education, School for International Training, Vermont, USA on two occasions.
Jean Adukwei Mensah: Madam Jean Mensah is a Ghanaian lawyer and Chairperson of the Electoral Commission of Ghana. Prior to assuming the role of Chairperson of the Electoral Commission, Jean Mensa spent an 18-year career at the Institute of Economic Affairs (IEA) rising to the position of Executive Director and playing a pivotal role in strengthening Ghana's democracy and promoting strong institutions.
Charlotte Osei: Mrs. Charlotte Osei or Charlotte Kesson-Smith Osei, as she is also known, formally worked as a Chairperson of the Electoral Commission in Ghana. Charlotte Osei is known particularly for being the first woman to serve in the electoral commission of Ghana since the country acquired independence. Prior to serving in the commission, she worked for the National Commission for Civic Education as the chairperson. She has significant academic achievements such as a Master of Business Leadership, a Law Qualifying Certificate and Master of Law etc.
Gifty Anti: Oheneyere Gifty Anti is the CEO of GDA Media. She is a multiple award-winning broadcast journalist and a well-respected motivational speaker in Africa and around the world. A proud product of Mfantsiman Girls Secondary School, she holds a Diploma in Journalism from the Ghana Institute of Journalism and a master's degree in international journalism from City University, London. Oheneyere is the President and founder of the Girl in Need Foundation and the Awo Dansoa Reading Project.
Genevieve Pearl-Duncan: Genevieve Pearl Duncan Obuobi is a career woman, mother, and a wife. She is the branch manager of Fidelity Bank's flagship branch A n C Mall. Genevieve is currently a doctoral student at Swiss Business School and holds a master's degree from University of Ghana Business School and a bachelor's from GIMPA. Genevieve is an old student of Aggrey Mem Zion School. She is management certified by globally respected institutions such as Harvard Business School, and CEIBS. She is a certified relationship and personal development coach and a knowledge broker with special interest in Personal development, customer experience, leadership, entrepreneurship, and personal branding. Genevieve was the winner of the 2018 prestigious CEIBS alumni Excellence award and the prestigious Chartered Institute of leadership and Governance (CILG)Ghana personality of the year 2019.All in recognition of community work and leadership drive to impact others. She is very passionate about leadership mindset Shift amongst the youth and financial empowerment of women. She loves teaching, travelling, reading, and spending time with her love ones
Lucy Quist: Lucy Quist is a Ghanaian international business leader. She is a technology professional who advocates for greater participation of young people in STEM for development. She is a co-founder of the Executive Women Network and served as the Vice President of FIFA's normalisation committee in Ghana. Before joining Airtel Ghana as CEO, Lucy was Director of Vodafone Ghana, as the first woman to run a multinational telecom business. In 2016, she was named the Telecom CEO of the year. She had previously been honoured for leading transformational change that is shaping the telecom industry thinking. Lucy Quist is a technology enthusiast who believes in the potential of technology to leapfrog Africa's development. She passionately advocates for greater participation in Science, Technology, Engineering & Mathematics for Africa's development and continuously encourages young people to harness the game-changing power of STEM. She speaks from experience as someone whose career success has been greatly influenced by STEM. She is currently the Managing Director and Head of Change Leadership at Morgan Stanley. Lucy is the author of The Bold New Normal book. Her experiences have seen her serve businesses and consumers across both Francophone, and Anglophone Africa She has been able to demonstrate to Ghana and the world that leadership is not a function of gender. She is an example that black women, African women, can lead big businesses. #TheBoldNewNormal is an action-based idea under which Lucy Quist advocates for Africans to take bold actions towards African prosperity. She believes that with a change in the visions, language and mindset of its people, Africa can take bold actions to create prosperity for itself.
Angela Kyerematen - Jimoh: Angela is the first female Country General Manager for IBM in Africa, responsible for its Ghana operations. She started her career in London at GL Trade, a leading French Software Company, in marketing where she rose to become the Marketing Manager for London Northern- Europe. She later moved to ABN AMRO Futures and Options in London as a Marketing Executive working for the Commodities traders with her focus on marketing to the Hedge Fund community in London. Prior to returning to Africa, Angela worked for UBS Investment Bank in London. In Ghana, Angela started her career at UBA Bank Ghana as head of Prestige banking and later joined GT Bank as Head of Consumer Banking. In 2011, Angela joined IBM as the territory marketing Executive responsible for West Africa. She later moved to Nairobi Kenya with IBM as the Strategy Leader for Central, East and West Africa, prior to returning to Ghana as the Country General Manager in 2015. Angela is a seasoned marketer with over 17 years' experience in marketing and sales. At IBM, she has been responsible for pioneering some of the largest deals in both West and East Africa. Angela was awarded the Information Technology Service CEO of the year for 2017 (Entrepreneurs Foundation of Ghana) and was ranked amongst the top fifty women corporate leaders in Ghana in 2016 (The African Network of Entrepreneurs – TANOE) Angela is a board member of the American Chamber of Commerce (AMCHAM). She is a graduate of Harvard Business School in Leadership Development, holds an MSc in International Business, BA in Marketing and French and a product of Achimota College and Wesley Girls High School in Ghana.
Mrs Patience E. Akyianu: Mrs Patience E. Akyianu is currently the Chief Executive Officer of the Hollard Group in Ghana and is a director of both the Boards of Hollard Insurance Ghana (General Insurance) and Hollard Life Assurance Ghana. Patience is a very experienced and well-rounded business leader with strong commercial acumen and has over 26 years' experience in Banking and Finance having spent the recent 17 years in the banking industry before joining the Insurance Industry in October 2018.

She previously served as Managing Director of Barclays Bank Ghana for 5 years where she built a high performing and more diverse leadership team. Prior to that, she was the Finance Director of Barclays Bank Ghana. Under her strong leadership, the performance of the bank consistently exceeded expectations, culminating in its position as the most profitable bank in Ghana.

She holds an MBA (Finance) and a BSc in Business Administration (Accounting Option, First Class Honours), both from the University of Ghana Business School. She is a certified professional accountant and a member of the Institute of Chartered Accountants, Ghana. Patience is also an honorary member of the Ghana Institute of Directors.

She sits on other boards, namely, the Apex board of the Jospong Group of Companies and is also on the Advisory Committee of the Ghana Infrastructure and Investment Fund.

She is a founding member of both the Executive Women Network and the International Women's Forum, Ghana.

Patience Akyianu was named among the 100 Most Reputable Africans 2018, by the Reputation Poll, together with renowned leaders like Rwanda's Paul Kagame, South Africa's Cyril Ramaphosa, Ghana's Pastor Mensah-Otabil and Strive Masiyiwa. Her other many awards and accolades include: Nobles International Award for integrity (2013), Africa Female Economic Champion-Banking (Centre for Economic & Leadership Development (CELD)-2014), Second Most Reputable Banking sector CEO in Ghana – 2017, Best Female CEO in Ghana 2018.

Florence Ohene: Florence Ohene is the Country General Manager for IBM Ghana. In this role, she is responsible for IBM Sales, Marketing, Services and Global Delivery Operations in Ghana. IBM Ghana is part of the North, East and West Africa region of IBM's Middle East and Africa market and reports to the Regional Head, Angela Kyerematen-Jimoh. Ms. Ohene brings to this role more than 20 years of local and international experience in the IT industry, driving transformation, leading teams, developing markets, and supporting clients across multiple industries. Before joining IBM, Ms. Ohene was the Regional Head of Sales for Vodacom Business Africa's operations in Ghana and Francophone markets. In prior roles, Ms. Ohene served as Business Director for Publicis Groupe Africa where she was responsible for the West Africa market, and as Business Development Manager, at Bell Canada. She was also the Founder and Managing Director of ABC Ghana Ltd., a start-up company focused on developing business cases for emerging solutions in Ghana. Ms. Ohene holds a Bachelor of Arts degree in Business and Society from York University, Toronto, Canada.
Abena Amoah: Abena Amoah is an accomplished financial and investment advisor with over 16 years of work experience. She started her career with Strategic Africa Securities where she worked for ten years rising to the position of Executive Director.

She is currently the Chief Executive Officer of Baobab Advisors, a financial advisory services company she founded in 2011. Prior to that, she headed the Ghana office of Renaissance Capital; a leading investment bank in Moscow.

Abena holds a First-Class Honours in BSc Administration from the University of Ghana Business School and attended the University of Colorado's Daniel College of Business.

She is the recently appointed Deputy Managing Director of the Ghana Stock exchange.

Beatrice Agyemang: Currently the General Manager of Media General and oversees the strategic direction and operations of TV3. She is inspired by the daunting challenges that come with the journalism profession and her unquenchable thirst to overpower competitors, while giving viewers unparalleled content. Beginning her TV career in the year 2000, Beatrice Abbey tirelessly interrogated pressing issues and mind-boggling stories as an anchor, a reporter and later Senior Producer.

She assumed her current role as General Manager for MGTV in 2017 and doubled as the Head of MG Digital for well over a year as well as GM for MG Radio for a period. An ardent learner, she has toured almost all major news makers in the US and United Kingdo ― BBC, CNN, VOA, Sky TV, Citizen TV and Kiss TV in Kenya, in her quest to bring on board unmatched experience to outclass her competitors.

Beatrice is Deutsche Welle trained and has a bachelor's and master's Degrees from the GIMPA Business School.

Elinam Horgli: She is currently Deputy Managing Director of Horgle Transport Co Ltd. Being a young strategist comes with its own challenges in a market space that prefers 'experience' and veterans, however being a young female strategist is even more daunting. It is a life filled with a delicate blend of respect vs assertiveness, confidence vs humility and prudence vs spontaneity. This is the life Elinam has lived over her 11 years of professional experience in Strategy and innovative business modelling. She excels in business administration, Human Resources development, business process improvements, organizational structuring, and Innovative product development. The largest and most awarded petroleum transport company in Ghana and the West African Sub-Region where she leads by creating an environment for others to be excellent. She has also been active in ensuring gender equality in the workplace by introducing females into traditional male dominated work areas. Furthermore, she owns and runs multiple start-ups focused on the improvement of primary healthcare and education across the country using innovative, value creating business models and ICT.