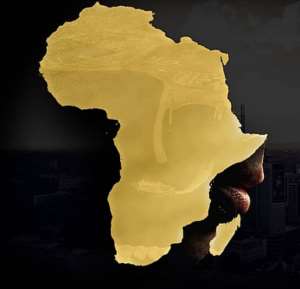 On any day, I would be bold to tell of this, "that the Black man with emphasis on those living in Africa are the blessed and unforsaken ones". I would say, we are the midwives of Westerners.
Why do I say this?
I have friends who are into the exportation of food and animal products in Ghana. They tell me, a sight of a cockroach or even an eye of an ant in their 20' or 40'-footer containers, upon arrival in a foreign country like Europe and the America's, would be seized and all products destroyed at a cost to the exporter. I usually go like, just a common cockroach or the friendly handshake of a lost ant?
They tell me, if I want to have an idea of the hastiness and aroused temperature of emergency regarding cleansing or fumigation at the Port of exit, I should "imagine" an army attacking a swarm of terrorist around a Presidential villa. This observation of fact clearly demonstrates how precautionary, articulate, meticulous and health-conscious the westerner is in protecting its citizens. It is sometimes baffling when its people are still overly demanding and want better lives from their arms of leadership. My beloved Professor of blessed memory, under whose pot of wine I sipped would say, "Who don't know no, go know".
Fast forward, I have as well been fortunate to have traveled extensively and recall upon an airport pick up from Dulles Washington to Maryland at night, a speeding vehicle ahead of us struck a deer dead. My cousin from Ghana who was new to the Western culture told my uncle to stop so she could pick up the deer so we use it for "pepper soup" at home the next morning.
We laughed and shrugged off her ignorance as each consumable animal abroad is tested of any disease or health condition before it is slaughtered, approved and brought to the market for sale and consumption. I recall telling my cousin that, the ritual of eating anything dead, alive or prematurely sick, in Ghana is unworkablev here. She said, but Michael, you remember we ate the fowl that mistakenly landed in our fenced house when the dogs were almost done with its flesh? I climaxed in laughter and opined to her not to disclose confidential or restricted information. She giggled peacefully and said, I understand Michael, for the heaviness of a flatulence of a King is unsaid. Our uncle added that, a two-legged dog with a foaming mouth and one eyed, cannot be rescued in the hands of a "Bolga" man in Ghana as it's a whole family delicacy for a week. May I be pardoned for the usage of comic language as there is nothing like a sick dog in some parts of Upper or Northern sector of Ghana. So, I am tempted to ask, can a white man feed on just any meat? If I say the black man is blessed and highly favored, the descriptive analysis is true.
Honestly, my most loved European country is the brewed Orange-Dutch. Considering the architectural insight and foresight with regards housing a land on water makes me love and appreciate their art and cultural exposition. Therefore, visiting Netherlands had been a seed sown since my early school years and there has never been a time that I have been to any part of Europe without visiting this great Country. My uncle lives in Groenteweg-Gravenhage and he's close to the Den Haag market. What I witnessed uniquely at the market was the closure of it twice each week. On these days, the market is well cleaned by state Authority and reliably disinfected with the honest compliance of the sellers. Isn't this amazing. To have a society that understands hygiene and would forgo monies or returns on these days just to protect lives. What is intriguing in Africa and Ghana my homeland is, our markets are the playground for rats, cockroaches, wall geckos, just to mention a few. Just take a lumbering walk as a giant within Ghana's markets around 5 pm and you are likely to be greeted by a family of rats. It would interest you to know that, a fumigation exercise conducted in March, 2020 at Makola Market alone recorded an obituary of over 72,000 mice, 800 rats, 650 grass cutters, unnumbered snakes and cockroaches. If this is the hub for our satisfaction with regards what we consume as food in our homes, I am tempted to boldly declare that, the Black African is highly blessed and unforsaken.
Surprisingly enough, I have also heard a story relating to the fact that a foreign airline stopped flying to an African country due to the fact that one of their stewards showed signs of Malaria and died on their return as a result of a sting/bite of a mosquito. Even a young child in Africa would wonder how that happened 'coz chatting and sleeping in snooze or snort mood around mosquito infested communities is a way of life to some. Minority of African children also wake up strong each day and sometimes awaken to witness the greeting or kiss of a stubborn mouse/rat on its lips and perfumed toes 'coz slums and kiosk assassination is unproudly part of them. Dear reader, have you heard that, a complaint to a friend of headache and general weakness is immediately attributed to Malaria in some homes in Ghana? Laughable? They self-medicate by taking Malaria drugs before they decide to visit the hospital when the symptoms get worst.
Ever heard of "Shit on Shit", aka SOS? If you haven't then you must visit any of our Boarding Senior High Schools or Universities toilet facilities and you would be welcomed by the signal of extreme distress. As Africans as we are, we survived this and least complained of any ailment related to UTI. Our ladies whom I thought could bring their own chamber pots lived and walked freely in School without any fiery scores to Candidiasis. They overcame the heatwaves from the toilets with ease. A friend tells me, the immunity of the Black African adjusts to the conditional lifestyle of its environment overtime.
We are a Miracle and for this reason, "Who even discovered Africa?". For if one wants to define stress and appreciate that God is really good, take a one-week vacation to this beautiful space of real survivors where our eyes are super charger lanterns when driving on our roads at night.
Potholes, dark streets, polluted drinking and cooking water emanating from "galamsey" activities, kids skating in red sand on a marginal hilly area during rains with no clothes on, fishing in cow dung canals, defining stray animals as a holier culture, among others would make you understand that, the black African is truly a patriotic citizen 'coz he holds no grudge to any leader who failed it.
Let me tell you why Black Africans don't appreciate pets, in here, an animal doesn't have rights. We even use car tires to smoke the hair out of the animals and for a long time, the Black African is still able to live beyond seventy summers after its consumption. Sounds as an unsolved mystery?
We are genuinely blessed and unforsaken black Africans 'coz we are able to wake up each day and fight our own war to either win or lose as "unhappy" people. This concluding arm relates to the fact that, should one win through genuine or ingenuine means, he or she is an unhappy being because he drives on the same road as the loser, buy and eat from the same surroundings or market as the loser and pays hugely for his or her own security which is an expense borne by self and new to the loser.
We are just ejaculated political beings whose strength lie in the former. Congratulations to the one who discovered Africa. You really taught us well 'coz we still construct roads and leave the sides of it with red sand. My good friend Tamin tells me, some shamelessly establish businesses immediately their political parties win power and these unspecialized categories of persons are the ones who build our roads for us. Gracefully, we see no wrong doings in it and defend them with our political lenses.
Not long, we organized communal labour, erected heaps of refuse from the choked gutters, and left them on the sides of the road awaiting a god to evacuate it and dump them at a Landfill Site. We are unique creatures unforsaken and shall make the second coming of Christ premature. Do not overly laugh, for we are cheerful people despite our challenges.
My dear friends, do not pose heaviness in your heart and deem this as a condemnation of Africa or any land within it as it is a relative thought of expression defining how self-honorary, healthy, happy, and gratefully satisfied even in the midst of uncommon settlement. We are what we are and should anyone take this as insulting, I would like to relay my own constructive proverb to you which says, "when someone tells you that you are "foolish", do not take offence to his or her ill torn thought, but rather take it as a motivation to prove him or her wrong by making him feel superiorly foolish through the lessons learned from his/her earlier proclamation". Thus, there should be steps of attitudinal change and strength to win on that track and field race of divergent destinies.
In life, we choose which way to go with the hope that something good might come out of Nazareth. Africa is a haven and a human society with an identity of unique people. Our culture in a communal system and thus, holds our strength and bridges uncommon fate. I hail the one who discovered it for nurturing us with these ideals which are an inheritance "unworthy" but doable to change. We owe our immunity to you Mr. Discoverer and we foresee ourselves being stronger in the new Africa. We are Lions chasing a dream!!
By Michael Kwaku Kesse Somuah
Aka Poet et Cetera
11.11.2020