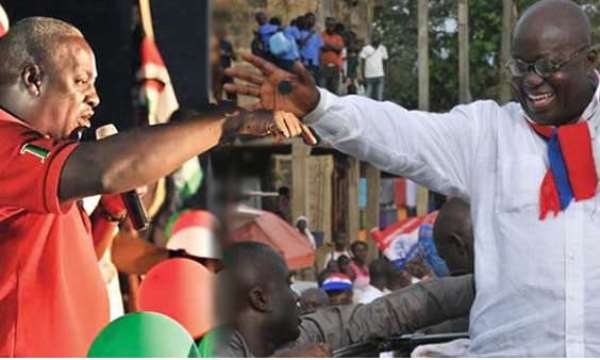 Mahama and Nanao on tour
We are on the highway to the 2020 December elections and political parties are as usual saying what they need to say to get the votes they want. This has created an atmosphere we should all pay attention to and even be worried. Political parties are desperate for power and it is clear they are making it more about themselves than about the people the power belongs to.
A lot is being said about this years election. One consistent thing is the saying that this year's election determines the future of this country. I think the future of the country decided already even though we are still waiting for December to come. Because all we are getting are promises that add nothing to the current state of the country. No political party is taking the pain to defile the norms of politics. Shouldn't this cause us to worry about our next four years?
The NDC's Desperado
Now, let me take you through some of the reasons we need to start worrying now about where the country is heading towards starting with the National Democratic Congress. The NDC under Mahama is working towards a second term and I have never seen them desperate and therefore reckless in making promises like they are doing now. If there is one thing I will credit the NDC for, it is their ability to refrain from too many vain promises.
NDC And The Collapse Banks
I watch my mother 'hustle' to get money only to save the money with GN Bank. Until now, my old woman has not been able to have her money back and this money issue with GN Bank not allowing their customers to withdraw money started before the bank was finally closed down.
The Vice President said somewhere in August that rationalisation of the banking sector has ensured that deposits of 4.6 million Ghanaians were saved. You can say you won't believe whatever the Vice President says but believe what my mother went through with GN Bank. So today, when the NDC in their 2020 manifesto is saying that the approach adopted by the NPP was wrong after they've been in power all this time and couldn't do the right thing then there should be something we should worry about as regards to why they should even put this in a manifesto in the first place.
Legalising Okada Business
You see, in the generation, we find ourselves in, some things shouldn't be accepted or tolerated by politicians and voters alike. Things like patronising a situation instead of facing it head-on with strong arms. It is sad, at least for me to hear that apart from all the avenues available for job creation, the NDC will rather decide to use the legalisation of Okada business in their campaign message.
This is very sad and the fact that people don't notice the magnitude of sadness in this is the bigger problem. There is no sense in a big party like NDC to focus on Okada business, the only sense we can make of this is the fact that they just want to say anything that will get the power in the December elections. This is the second reason you should worry about Ghana's future.
NDC's Fight Against Galamsey
It's either politicians stop rational thinking or they see the voting populace as irrational thinkers and so they throw everything they feel like throwing into our minds so that we can keep voting for them.
The NDC was in power for eight good years before the NPP took over in 2016. And in their eight years, they didn't see anything wrong with galamsey until they were kicked into opposition. In opposition after failing to do anything about illegal mining, they think they have the moral right to talk about what the NPP is doing and not doing about the issue.
All of a sudden, the solution to the problem they have never thought of is not working and then went on to beg voters to put them back in power, 'because of why?'
NPP on paying rent for the youth.
This article was planned to talk about NDC's desperate desire to win back power and out of nowhere, the NPP want to pay rent for the youth when we maintain them.
Do you see how politicians think of us? Paying rents? Really? Like how? As a political party or government? 'In fact, this does not cut well'
With our current position as a country, this shouldn't be our priorities. If we want to solve issues with accommodation, paying rent for the youth is not the way to go at all. This is just something you do when you want to patronise the problem and avoid the 'hard solutions'. Why should a whole government take their eyes off affordable housing units and focus on paying rents? Why can't our government see to it that regulations regarding rents are implemented as stated in the law of the country but instead decide to pay rents? Does it make any sense at all?
Bottom Line
We have to start doing some serious thinking or we will keep voting this sovereign country into its destruction. Why is it that our politicians are this lazy and greedy?
These promises from our politicians should be a clue of what we would see in the next four years should any of them win power. The decision is our hands, we can choose to stand for the country or continue to betray it as politicians are doing.