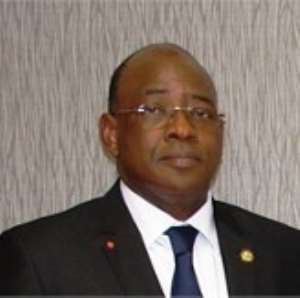 His Excellency Mamadou Haïdara Ambassador of Côte d'Ivoire to the United States
It can be easy, once you have identified a trend, to view new situations through that lens as further proof of your assumption. I have witnessed this dynamic play out in the news recently when looking at the upcoming presidential election in Côte d'Ivoire. If you think the situation unfolding in Côte d'Ivoire is just another example of democratic backsliding in Africa, I urge you to take a closer look.
Côte d'Ivoire is a new democracy that has made great strides during the tenure of President Alassane Ouattara, emerging as one of the strongest economies and democracies in Africa, strengthening women's rights and legal status, and becoming a valued trade and security partner of the United States in a region under increasing cross-border threats and attacks by militant extremists. Under his leadership, Côte d'Ivoire approved a new Constitution in 2016 that set a two-term limit for the presidency. President Ouattara is seeking a third term.
If you only read this far, it is easy to presume that this is yet one more case of a president re-writing the rules to hold on to power. But if you look more closely, the reality on the ground is a truly unique situation that does not fit our preconceived notions of African democracies backsliding. In fact, it has become increasingly clear that Côte d'Ivoire's best chance at holding on to the freedoms and growth it has achieved over the last decade is to re-elect President Ouattara.
President Ouattara officially announced in March of this year that he would not seek another term and planned to retire from public life. Prime Minister Gon Coulibaly was then chosen to succeed him as their party's presidential candidate. Tragically, in July, the Prime Minister died of a heart attack, leaving the party with no candidate just twelve weeks before the presidential election.
This extraordinary circumstance left a major political party with the difficult task of identifying, vetting and putting forward an alternative candidate in a matter of days or weeks — an unrealistic timetable in any country, and especially so in this young and still somewhat fragile democracy. What's more, the political environment was growing increasingly volatile, with opposition candidates — including several past leaders who had contributed to the most destructive and violent years in Côte d'Ivoire's history — once again vying for power and seeking to stir up ethnic divisions.
Confronted with this unforeseen predicament, President Ouattara's decision to seek another term in office was the only viable path forward for his party and his country. And despite the false claims of his political opponents, it is legal for him to do so. The Constitutional Council, an independent institution that serves as the country's supreme court, ruled definitively in September that President Ouattara's candidacy is in line with the nation's new Constitution, which was approved in 2016 and established new governing authorities and eligibility requirements for office. Many external observers, including the United States, acknowledged the Council's sole authority to decide this matter.
The Constitutional Council also determined that three opposition candidates were eligible to run, with Henri Konan Bédié emerging as a frontrunner alongside President Ouattara. Bédié served as President of Côte d'Ivoire from 1993 until 1999 when, plagued by corruption and the jailing of political opponents, his government was overthrown by a military coup that ended a starkly different tenure than what would come later under President Ouattara.
Following the civil war and violence prior to his election, President Ouattara took determined steps to restore peace, security and economic stability to Côte d'Ivoire. As a result, the nation has emerged as one of the strongest in Africa, with region-leading growth of around 8% annually, and is a valued partner of the United States. Côte d'Ivoire has been rated as one of the ten most reforming countries in the world, undertaking in-depth economic and social improvements, including the elimination of laws that restricted women from owning or inheriting property. This proven track record of reform is one of the reasons why Côte d'Ivoire was selected in 2017 by the highly selective Millennium Challenge Corporation for a $525 million development grant by the U.S. government.
Côte d'Ivoire should not be dismissed as one more example of democratic backsliding on a continent stricken by power grabs and corruption. Rather, as the nation still mourns the loss of a promising presidential candidate, its people have a distinct choice: to continue advancing along the path of democracy, peace and prosperity that a new generation will soon inherit, or to risk reverting to discredited and harmful forces that plagued their nation in the past. On October 31, Côte d'Ivoire's election day, Ivoirians must be allowed to make that choice.
His Excellency Mamadou Haïdara
Ambassador of Côte d'Ivoire to the United States