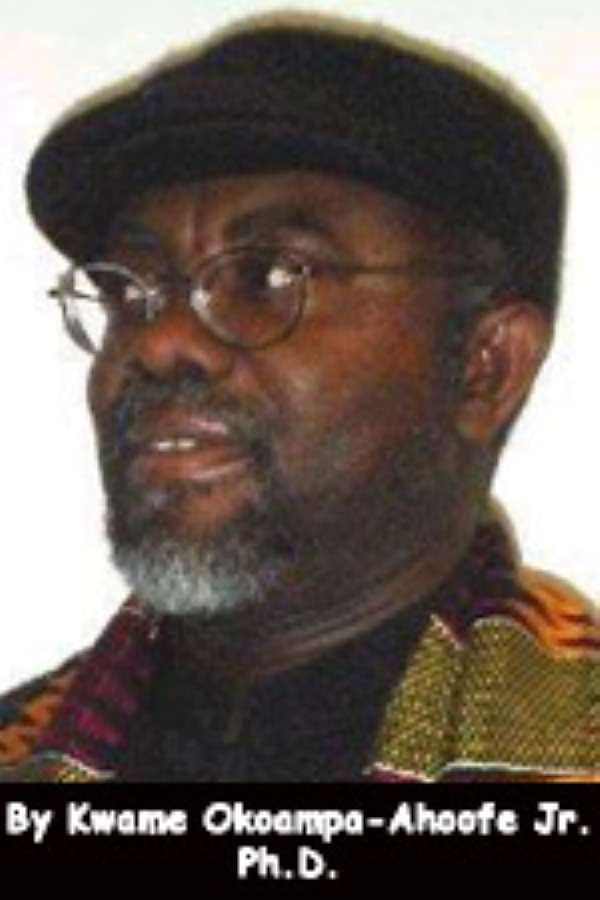 At this mid-point of our series, we intend to tie up the loose ends of our discourse on T. Peter Omari's Kwame Nkrumah: The Anatomy of an African Dictatorship (1970), and Bob Fitch and Mary Oppenheimer's Ghana: End of an Illusion (1966), unarguably two of the most significant studies of the history and politics of Ghana's immediate postcolonial era. But before we do so, several germane, albeit passing, comments are in order. The first is that at the time of this writing, Mr. Kwame Botwe-Asamoah, who has been running a largely emotive and pedestrian, if also patently ineffectual and bumbling, campaign against the irrefutable centrality of Dr. J. B. Danquah in the annals of twentieth-century Ghanaian historiography, published "Part Four" of his supposedly counter-series to our discourse titled "The Fallacies of J. B. Danquahs [sic] Heroic Legacy."
On the whole, this is Mr. Botwe-Asamoah's most linguistically coherent – or readable – article in his counter-series. Unfortunately for the writer, however, as William Shakespeare observed some four centuries ago, "A rose [re-designated] by any other name would [ineluctably] smell the same." In the case of the author of "The Fallacies of J. B. Danquahs[sic] Heroic Legacy (IV)," the obvious icon of such re-designation is the skunk, perhaps the most fetid rodent in the zoological kingdom. In brief, the writer woefully fails to recognize the stark fact that regardless of how one gussies up stockpiles of muck and outright lies, the fact remains that dressed-up lies are just what their description implies – dressed-up lies!
It is also rather unfortunate that the team that put Mr. Botwe-Asamoah's article together for the dancer-turned-zongologist, failed to recognize the rather pedestrian fact that scholastic documentation is not the same as "parenthetical name-dropping." Thus we even have a renowned plagiarist of Ghanaian oral poetry being paraded, perhaps for the vacuous awe of unsuspecting readers, as an authority of Ghanaian history and even much more interestingly, an unassailable authority on Akyem-Abuakwa history. Mr. Botwe-Asamoah also appears to be deeply troubled by the fact that President Kufuor would duly exercise his political mandate by naming Mr. Tony Oteng-Gyasi as Chairman of the University of Ghana Council. To this effect, the Chief Zongologist of the Neo-Nkrumah Ideological Institute at Temple University writes:
"As stated in my introductory article, President Kufuor and the Okyehene's [sic] views, and the serialized articles by Dr. Kwame Okoampa-Ahoofe, Jr., (whose father was a foot soldier of Kwame Nkrumah [sic], a Young Pioneer official and a graduate of the School of Music and Drama at Legon) suffer from a severe historical amnesia. They were orchestrated to honor Danquah in a big way during the [up-?]coming 50th Anniversary of Ghana's independence. Otherwise, why would President Kufuor appoint Mr. Tony Oteng-Gyasi as Chairman of the University of Ghana Council (Ghanaweb, July 11, 2006)?"
And here, it goes without saying that Mr. Botwe-Asamoah's is a patently pathological and phantasmagoric imagination, assuming that, indeed, the writer of "Fallacies" has any imagination to talk about. And indeed, he may well be endowed with an imagination; but whether his imagination can be soundly subjected to a clinical examination is a separate question altogether. First of all, any critical reader is left wondering whether, indeed, as Mr. Botwe-Asamoah asserts, President Nkrumah was "a Young Pioneer official and a graduate of the School of Music and Drama at Legon" (Ghanaweb.com 8/30/06).
Of course, any critical reader of the English language, on first blush, may be tempted to impute the preceding quote from Mr. Botwe-Asamoah, a leading editor of the Journal of Black Studies (the major mouthpiece of the Neo-Nkrumah Ideological Institute), to the rhetorical blunder called "the dangling modifier." But in reality, the preceding is part and parcel of the pathological temperament, or mind-set, of a clinical liar. In any case, the writer's dastardly attempt to draw this author's deceased father into our ongoing discursive series on the neocolonialist atrocities perpetrated against an unsuspecting Ghanaian electorate by President Nkrumah and the latter's Convention People's Party (CPP), is rather unfortunate; and, it goes without saying that this dirty trick, and cheap shot, would also not work, just as the Nkrumacratic attempt to reduce our discourse to the domestic level of a noisome paean – or homage – to a supposedly nondescript Ghanaian kinsman of Kwame Okoampa-Ahoofe, Jr.'s, has not worked against the putative Doyen of Gold Coast and Ghanaian politics. and on this score also, suffice it to say that Professor Kwame Okoampa-Ahoofe, Sr., found peace with himself and his soul prior to his premature passing – and, indeed, those of us who knew him intimately and even shared his gene-pool, have no reason, whatsoever, to doubt that his eudaemonious spirit has found eternal rest and peace.
It is also quite interesting and curious that for a writer who cavalierly claims that he is not engaged "in a debate with any person or persons who express emotions, because debate, as we know, is the art of debunking the data of one's opponent with facts" ("Fallacies" Ghanaweb.com 8/30/06), would impugn the professional and academic qualifications and, indeed, the integrity of Mr. Tony Oteng-Gyasi as Chairman of the University of Ghana Council, without the basic and requisite adducing of documentary evidence or factual data. In sum, is Mr. Botwe-Asamoah implying that, perhaps, it would have been far more appropriate for President Kufuor to have, instead, appointed one of the Tsikatas, Ahwois, Rawlingses, Anyidohos or any individual member of the infamous Ghana Butchers' Congress – otherwise known as the Provisional National Democratic Congress – but Mr. Tony Oteng-Gyasi?
On the preceding score, we can only pity Mr. Kwame Botwe-Asamoah; we cannot blame this Neo-Nkrumah Ideological Institute graduate because the latter Institute was never programmed to teach this basic hallmark of sound scholarship – the logical adducing of corroborative evidence in support of one's magisterial contentions. In the same paralogical and mendacious vein, Mr. Botwe-Asamoah writes: "[On] January 1, 1964, a police officer, Seth Ametewe [from Mr. Botwe-Asamoah's own ethnic group, by the way], was posted on guard duty at the Flagstaff House to assassinate Nkrumah. His five shots missed Nkrumah, but succeeded in killing his personal security officer, Sgt. Salifu Dagarti. The question is, what government would permit these[sic] primitive and terrorist methods[sic] of an attack[sic] by an opposing political party? In the light of these senseless, barbaric bomb attacks against the founder of Ghana, Osagyefo Dr. Kwame Nkrumah, the Young Pioneers and other school children, how was the CPP government going to protect and develop the newly independent state of Ghana?" ("Fallacies" Ghanaweb.com 8/30/06).
Before we proceed any further, we may, perforce, need to get a little personal here. First of all, it is nothing short of outright annoyance for Mr. Kwame Botwe-Asamoah to cavalierly presume the abject stupidity of his readers and audience. Secondly, is the writer, here, implying that Dr. J. B. Danquah, or the NLM/UP, was officially appointed by President Nkrumah and his CPP government to regularly post security guards at the Flagstaff House, Nkrumah's official residence, to protect the African Show Boy? Coincidentally, we must also observe the fact that this present author personally attended St. Peter's Secondary School, Okwawu-Nkwatia, during the mid-1970s, with the son of Sgt. Salifu Dagarti, Mr. Issa Salifu. Indeed, the latter, who was three years ahead of this writer was also a respectable acquaintance, who even once borrowed this writer's school T-shirt in order to represent their house, Augustine, in an annual, campus-wide soccer competition. And so we can emphatically report, without any fear of contradiction, as it were, that not once did this writer hear Mr. Issa Salifu remark that his late father had been slain by an assassin personally or obliquely dispatched by Dr. Danquah. A patent case of posthumous libel here again?
Indeed, in his characteristically quixotic attempt to excuse Nkrumah's atrocities, Mr. Botwe-Asamoah exhibits abject disregard for the glaring facts of history. This is only to be expected because as we noted earlier on, the anti-Danquah counter-serialist is trained in traditional African dance forms, not in history, his stentorian claims to his having been awarded a master's degree in African History, in 1977, notwithstanding (Ghanaweb.com 8/30/06). And here, also, we must hasten to point out that there is a stark and elementary difference between one's sitting in a graduate history class and going through academic formalities, the way a dancer does his (or her) warm-ups and in the course of the latter "getting" a master's degree, or even a doctorate, and the diligent and systematic pursuit of sound and disciplinary scholarship. Mr. Botwe-Asamoah, needless to say, belongs in the former category.
And this is the more reason why the writer is able to fatuously fault the Danquah-Busia-led political opposition with the infamous Kulungugu assassination attempt on the life of President Nkrumah. On the latter score, this is what Mr. Botwe-Asamoah writes: "On August 1, 1962, as Nkrumah was returning from a visit to [the] Upper Volta (now Burkina Faso), and had gotten out of his car to speak to the schoolchildren in the crowd that had gathered to greet him at Kulungugu, a bomb contained in a bouquet carried to him by a schoolgirl exploded; it killed several schoolchildren and injured many others. The victims' bodies bled from cuts caused by the splinters from the bomb (Kanu 1982; Tetteh, 1999). Nkrumah sustained a serious injury [sic] but he refused to have any device [sic] to deaden his pain while the operation went on" ("Fallacies" Ghanaweb.com 8/30/06).
Here again, Mr. Botwe-Asamoah readily presumes the mnemonic obtuseness of his readers, thus his facile attempt to insult their intelligence. First of all, those who have been studiously following this series, particularly our extensive discussion on T. Peter Omari's Kwame Nkrumah: The Anatomy of an African Dictatorship, know pretty well that, indeed, Nkrumah did not take any "device" [sic] – or anesthetic – for his pain while being operated upon in the wake of Kulungugu largely because, as Omari aptly recalls, so paranoid and suspicious had President Nkrumah become of even his closest associates, including his personal physicians, that he would not even take his prescribed medication without at least the presence of two or three physicians, with at least one or two of them acting as diagnostic or prescriptive corroborators. In other words, Nkrumah flatly refused to be anesthetized for his Kulungugu-related surgery purely out of sheer cowardice – for the African Show Boy was morbidly afraid that a secret enemy among his personal physicians might readily overdose him and snuff out his despotic, insecure and sorry existence! (See Omari's Kwame Nkrumah: The Anatomy of an African Dictatorship). In sum, this was a clear and classical case of a murderer afraid of being murdered in turn.
But, perhaps, what is even more significant to observe is that almost every one of the suspects arrested in the wake of the Kulungugu assassination attempt belonged to Nkrumah's own Convention People's Party (CPP)! Among the suspects were Messrs. Ako Adjei, Mumuni Bawumia and Tawiah Adamafio (CPP General-Secretary), the very Party hack and fanatical propagandist credited with bestowing the glaringly over-sized title of "Osagyefo" on Kwame Nkrumah, and H. H. Cofie-Crabbe, a CPP administrative secretary. But what is even more fascinating about the infamous Kulungugu trial is Nkrumah's delirious insistence of having the suspects, at all costs, handed the death penalty by the Ghanaian Supreme Court. Consequently, when the Court, presided over by Chief Justice Arku Korsah, Justice Edward Akufo-Addo and Justice Van Lare returned a verdict of "Not Guilty" by reason of evidentiary non-sustainability, or lack of criminally culpable evidence, President Nkrumah summarily dismissed Messrs. Arku Korsah, Van Lare and Akufo-Addo. Nkrumah was to promptly use his parliamentary majority to override the verdict. And the "convicts" were only saved from the execution chamber by the 1966 coup – God bless Kotoka, Afrifa, Ankrah, Harlley and all the others…! (see Cameron Duodu "Ako Adjei: Walking History of Ghana," New African, March 2002).
Thus when at the end of his unpardonably insulting article Mr. Botwe-Asamoah writes: "Therefore, President Kufuor should, on the 50th Anniversary of Ghana's Independence and in the spirit of a [sic] true reconciliation, pardon J. B. Danquah and his cronies for their coup plots and/or their senseless bomb attacks that killed and maimed several Young Pioneers and other schoolchildren, instead of promoting him as a national hero," one wonders whether, indeed, the foul-mouthing "Zongologist" understands the meaning of the verbal "pardon," and regarding just who actually deserves such undeserved privilege, Danquah or Nkrumah. Then again, whoever heard of an Adolf Hitler University of Science and Technology, the way, these days, one lunatically gets assaulted and insulted with such patently inappropriate landmark designation as a Kwame Nkrumah University of Science and Technology? So whatever happened to the globally touted, uniquely Ghanaian sense of ethics and justice?
Kwame Okoampa-Ahoofe, Jr., Ph.D., teaches English and Journalism at Nassau Community College of the State University of New York, Garden City. He is the author of twelve books, including "Dr. J. B. Danquah: Architect of Modern Ghana" (iUniverse.com, 2005).