Games Can Be Used to Treat Children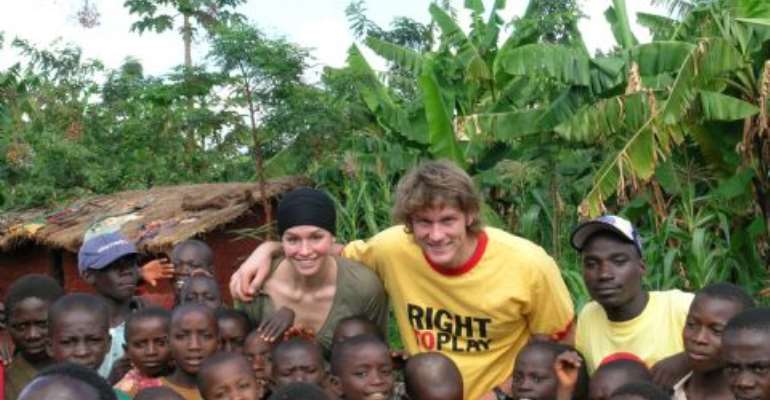 Right to Play-Ghana, an athlete-driven international humanitarian organization, said on Monday that acquiring knowledge through games was a better way to train children rather than applying force.
"Do not train a child to learn by force or harshness, but by direct him or her to assimilate what amuses their minds," Ms Suzanne Geudeke, Communications Coordinator of Right to Play Ghana, said at a press briefing in Accra.
She said the non-governmental organisation is convinced and has proven that children learn better through participating in games.
Ms Geudeke said Right to Play is therefore promoting the spirit of team play, fair play, health sensitization and peace through specially designed games for children of all ages.
"You can therefore be better placed to discover with accuracy the peculiar bend of the genius of each of the children through their participation in the games."
Right to Play is currently in 23 countries including Azerbaijan, Benin, Chad, Ethiopia, Indonesia, Pakistan, Sri Lanka, Rwanda and Mali.
She said the organization has been in Ghana since 2001 where it introduced its programme at the refugee camp in the Western Region and educated children and the youth on malaria and HIV/AIDS.
The organization targets children living under deprived conditions such as refugee camps, remote areas and children with certain challenges like mental disabilities and physical challenges.
Ms Geudeke said the officials of Right to Play deal directly through trained local coaches who are already dealing with the affected children.
She said a total of 240 coaches have been trained who in turn trained 4,000 children. Miss Geudeke said the organization was working with sports personalities like Azumah Nelson, Alberta Sackey, B.T. Baba and Emmanuel Ofosu Yeboah, the disabled cyclist, to get to the children because children adore sports heroes.
Right to Play is working in line with the appeal made by the United Nations (UN) Secretary-General, Mr. Kofi Annan to promote peace through sports.

It is also in negotiations with the Ghana Education Service (GES) to introduce its programme into the school curriculum.
The organization later took journalists through the "WEAKER LEG" game, where the participants were made to dribble a football with their weaker legs in-between lined up cones on two occasions.
The concept of the game is to indicate how clumsy and difficult it is to practice a new thing and how easier it gets after a couple of trials.