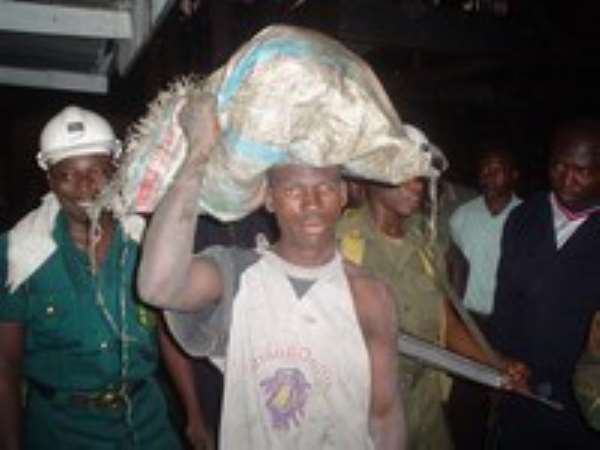 A combined team of police, military and Anglo-Gold Security on Thursday went down a 1,600 feet deep mining pit of the AngloGold Ashanti at Obuasi to arrest 21 galamsey miners including two students who were engaged in illegal mining.
This comes barely a month after an illegal miner was rescued on the verge of death after he had been trapped for three days underground.
The team retrieved explosives, dried leaves suspected to be Indian Hemp, cigarettes, hammers, cutlasses, torch lights, a sack full of gold bearing rocks, kenkey, sardine, 'shito' and bread.
Kofi Edusei, Public Relations Officer of Anglo Gold, who briefed the Times, said some of the company's underground workers who spotted the 'galamseyers' were alarmed by their number and reported to the police.
The illegal operators whose ages ranged between 17 and 39 years, were handed over to the police for further investigations.
In another development, the Times learnt that AngloGold management has accepted a request by the family of Isaac Kwaku Gyabeng, the 29-year-old galamsey miner who survived three-days trapped underground, to sponsor the cost of the surgery to correct a spinal injury he sustained.
The appeal followed the inability of the family to pay the initial deposit of ¢3 million demanded by the Komfo Anokye Teaching Hospital before the surgery.